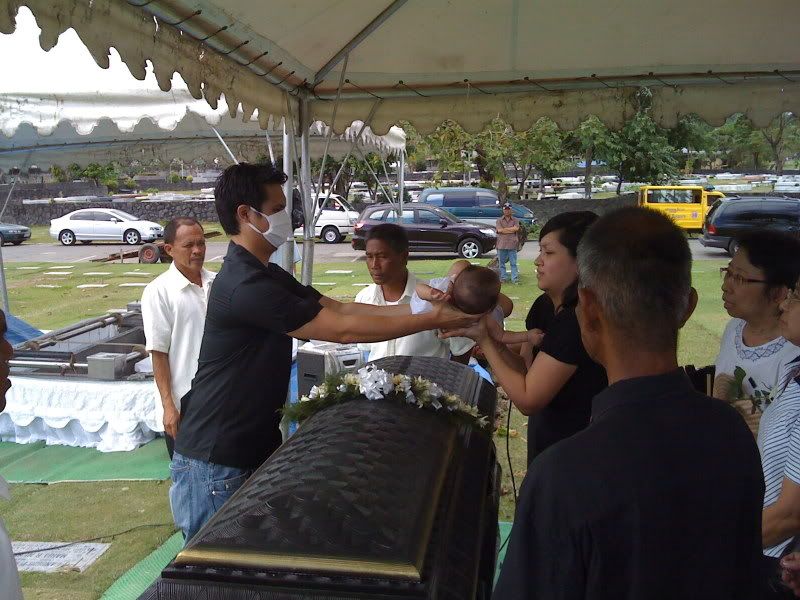 Clockwise from top row:
1.
Memorial registry board.
Ninety-seven years. I don't know if life is worth living for close to a century. I don't know what else is rewarding.
2.
Flowers for the departed.
Shot in the lobby of Loyola Chapel in 20th Avenue, right before the funeral service. It wasn't set that way at first. When I started aiming my iPhone at them, a staff arranged it for me.
3.
Candles on the floor.
No significance whatsoever. I just found them lying on the floor and it's a bit weird.
4.
Interment coordinator.
It was my first time to hear such job title. For that afternoon, our interment coordinator introduced her self first and later on asked us to reflect on a religious quote. She wasn't smiling. Everything was recited a la Hallmark greeting card. On the final blessing, she requested those at the back to be the first in line then the last row of seats down to the relatives in front.
5.
Memorial park.
Loyola in Marikina, to be exact. Not shown in the picture, but at the gate is a new memorial for the Master Rapper, Francis Magalona. In front of it is a meter-long bronze rose.
6.
Pamahiin.
In the picture are officemate Ivan Domingo, my cousin and Ivan's wife, Lesley, plus the very cute Maegan, their first born. Right before the actual burial, Ivan positioned on the other side of the casket, got Maegan from Lesley and returned the baby back. Another first experience for me. I don't know what it meant but my suspicion is for the baby to have a long and fruitful life.