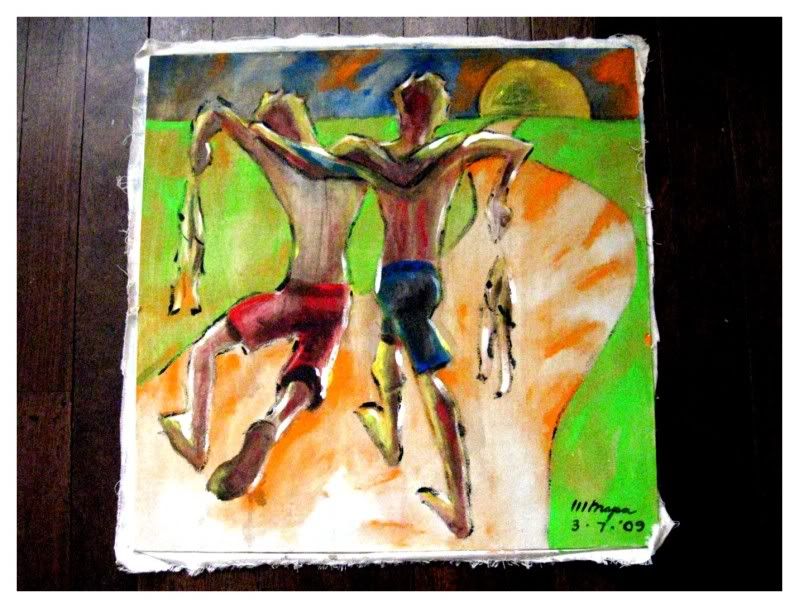 Last Friday, the 13th, I picked up the painting that Jao Mapa did for me. It was a consignment, he said, and it was only one of the two similar set-ups. My understanding of a consignment is that it's a special arrangement between the buyer and the artist. Let me explain further.
First Meeting
Last February, I got a text from Jao that he is selling some of his artworks. I was interested, of course. His exhibited works at GT Tower a few months ago made a big impression on me: Jao Mapa can really paint.
In the evening of the same day, I found my self locating his place near Morato. From afar, he texted "I see you." He was waiting for me at the building lobby. After a quick and awkward hi-hello, he asked me to follow him.
"Matagal ka na rito?"
, I asked.
"Mga late 90's pa. Until this year ko na lang 'to babayaran."
I proudly mentioned,
"Alam mo bang merong akong ATGB
(the line of clothing he modeled for Bench)
n'ung highschool?"
He just answered with
"Ah, As Time Goes By."
We reached the third level of the building without the help of any elevator (no wonder he doesn't need to go to the gym). In his flat, we were greeted by his two sons, Benjamin and Caleb, while a household help was doing some chores. His wife and daughter, Stacey, must be sleeping already.
Then he showed me his collection. Some were either in a folder and were represented through pictures.
"Nasa Antipolo 'yung iba"
, he said. I also saw drawings on standard size bond paper that depict football.
"I play regularly at Meralco. I'm a football fan."
While browsing his collection, he would either offer a drink (it was damn hot that night) or he would lead the kids back to their room. I can say that most of his works would look good on my wall but I know that they are expensive. Then a particular painting caught my attention. It is entitled
"Magkapatid"
. It has two fishermen who are on their way home with their catch. He said it's sold already or given away as a birthday gift but he said he could recreate it for me.
I told him that we're only two in the family and my brother is eight years older than me.
"May gusto ka bang background?"
he asked.
"Ikaw nang bahala."
Done deal. I gave him 1/3 of the payment and we agreed to meet again for pick-up after three weeks.
Friday, the 13th
Fast forward to last Friday. After Jaejay Po and I had a forget-the-no-meat-Friday dinner with pork barbecue and chicken liver at Colasa's along Timog, Jaejay dropped me to Jao Mapa's place. The time that Jaejay was leaving the street, Jao was coming up from his van, with the canvass on one hand. We found our spot in the sari-sari store opposite the condo building.
"Magulo sa 'taas eh, dito na lang tayo"
, he apologized.
For a minute or two, I admired the painting. It was sunnier than I expected. It would definitely complement the space adjacent to my bed.
"Ayos 'yan kahit gloomy sa room. Glow-in-the-dark"
, he joked. We were now seated on two separate cemented benches perpendicular to the
sari-sari
store window. Sometimes we have to cut our conversation when people were buying soda or getting a celfone load. I handed him the balance when no one was around.
"Ayos ah, sa kalye talaga tayo nagbabayaran", he said. "Beer?"
, he offered. We got a bottle each of San Mig Light, his treat.
Conversations
He mentioned that he just came from a dubbing session for the Osang film
"Pasang Krus"
and he will be giving me two premiere night tickets for the movie. We had our first toast for Osang with the context of having him reminded of his Forbidden Questions with Mo Twister (specifically on the question about the celebs he had bedded). We discussed a lot. From his stint in
"Baler"
and the money he got from doing a Playboy-inspired direct to video film called "Misstaken". I asked him who he thinks is the most promising new actor.
"Sid Lucero"
, which I agreed and mentioned more names like Coco Martin, Alchris Galura and Jay Aquitania. We also discussed his MMK days, particularly the
"Payaso"
episode with Edgar Mortiz and Ai-ai delas Alas. I countered that with another feature with Giselle Toengi and his Star Drama Theater Presents episode with Ricky Davao.
"Hindi ko na maalala 'yan. Ang tindi ng memory mo"
. I just quipped,
"Anak kasi ako ng telebisyon"
.
Since we were distracted with people coming by and purchasing something, I decided to reach his bench and left the painting on the other side. He sometimes greeted his neighbors
"Uy, kumusta na?"
. Others were just plain starstruck and were trying to figure out a familiar face. The street wasn't busy. Then we had another round of San Mig Light. This time, it was my treat. At this point, the household help came by and dispensed the premiere night tickets. We further talked about Erik Matti, the film
"Serbis"
, Aureus Solito's next film and his upcoming stint at Enchanted Kingdom with Roselle Nava.
"I turned down the Senakulo because the Enchanted offer came first."
It is going to be a musical, by the way. I'm guessing it's an excerpt. He later texted me the schedule. I also bragged about my ambitious trips and said that I was recently delegated to Kentucky.
"It's a red-neck state"
, he opined. He also shared his trip to the US and how his uncle once brought him to a strip bar. Or at one time, he played "Knockin' on Heaven's Door" and "Wonderwall" in a party in LA.
We also talked about family.
After finishing my second beer, I had to say goodbye to Jao Mapa. We shook hands and asked him if I can blog about the meeting.
"Please"
, he said. Then I found my self heading to the next corner with the painting in tow, hailing a cab.