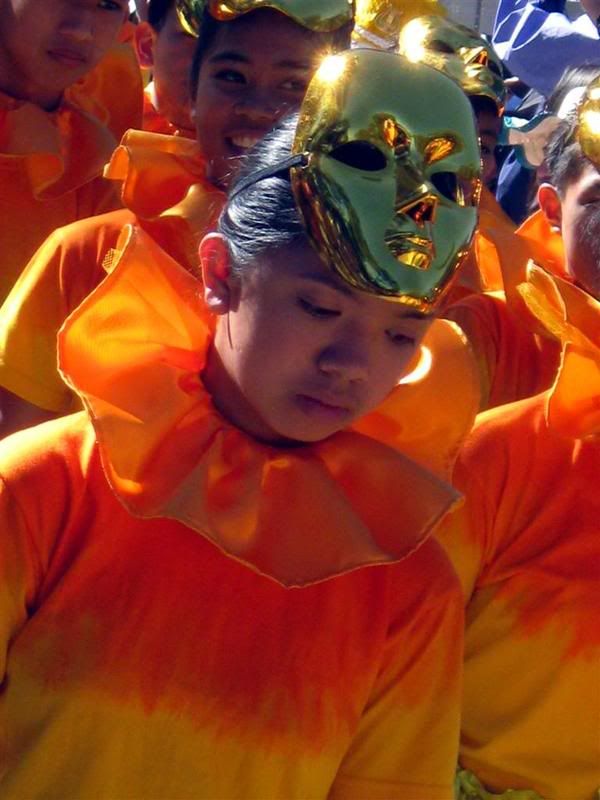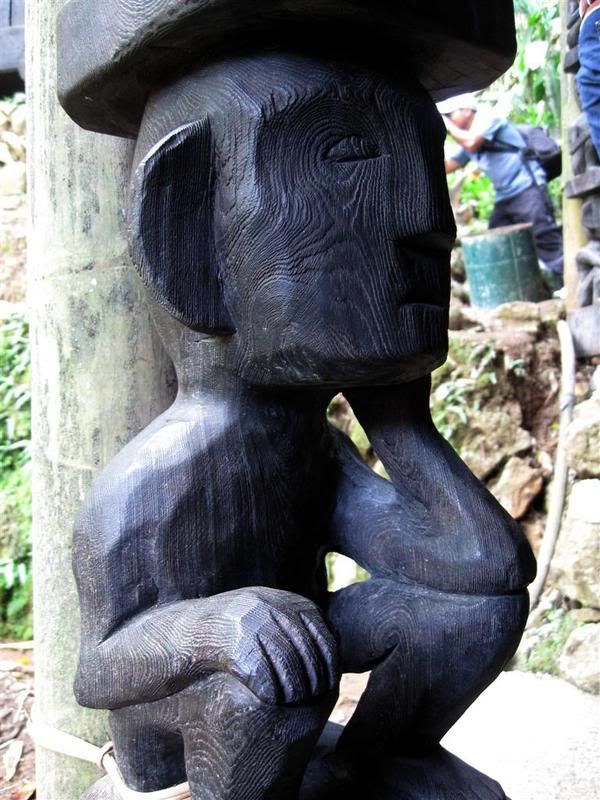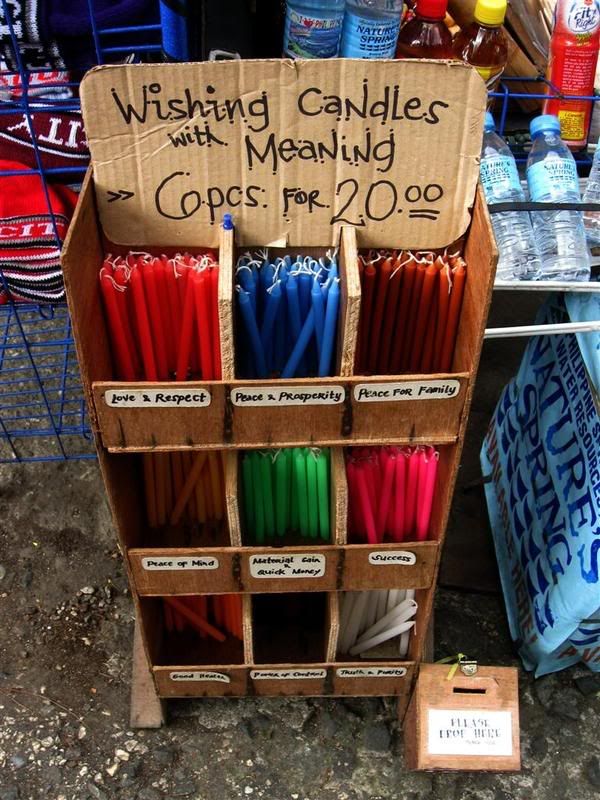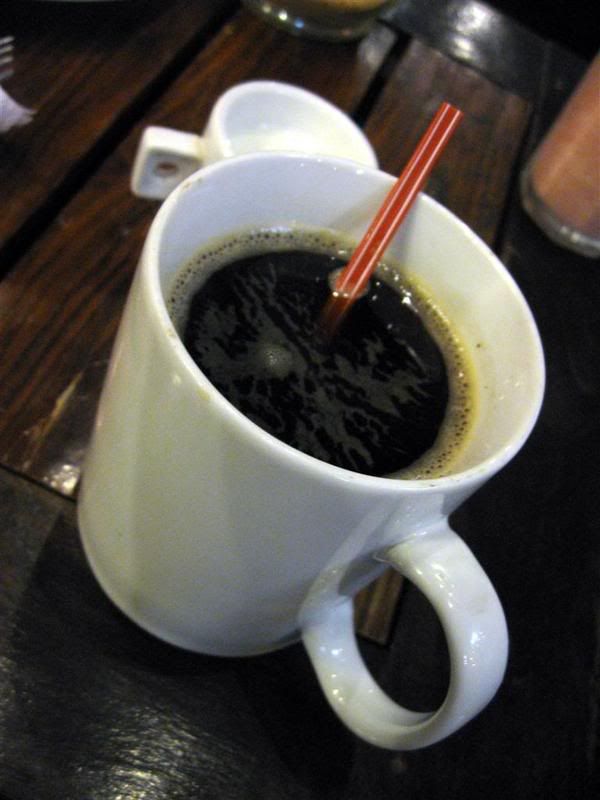 (From top row, clockwise: four street dancers, Our Lady of the Atonement - Baguio Cathedral, Cordillera Coffee homebrew, wishing candles in Grotto area and a bulol in Tam-Awan)
Ginawa ko na dati ang Panagbenga sa Baguio a few years back. I was with college friends then. I still remember that we stayed in a transient, with no hot water and the place was just eery. Well, eery pa rin 'yung place na tinuluyan namin this time (just Google City Light Hotel) and I was with officemates (Chelle, Leah, Lorelie, Mel F and Mel R, we just met Grace C and her brother and her brother's girlfriend in Baguio).
This year's Panagbenga was celebrated on the last weekend of February which is also the first weekend of March. Umalis kami ng Manila, technically, ng opisina, at around midnight. Our tickets (worth P440 each, one-way), which were purchased 10 days before the departure as mandated by Victory Liner, were supposed to be at 2am. But since hindi napuno ang 1am bus, we queued as chance passengers.
Street Parade
We reached Baguio at 8am-ish. Hindi na raw makakapasok ang bus sa terminal nito dahil umpisa na ang street dance. So start na ng araw namin, complete with our bags on (Mel F has the biggest bag). We walked for roughly five minutes to get into the crowd. Medyo tolerable ang dami ng tao kasi hindi pa naman ito 'yung main parade.
We stayed there for two hours. Enjoy naman. Divided into different divisions 'yung parade. That's from grade school to college. Needless to say, colorful s'ya. As compared to our other street dance, wala masyadong pressure ang version nila. For instance, sa Sinulog, sobrang dinidibdib nila ang mga dances at mostly, walang bata (ewan na lang ngayon).
Food Trip
The rest of the day was spent with a visit to SM Baguio (I saw our ex-parish priest there), Tam-Awan, then Grotto and back to the public market for pasalubong shopping. What was more evident in our itinerary though is the food trip. I enjoyed all the places that we dined in.
First in the list is Good Taste that was recommended by Joey Addawe. Sabi n'ya, na-feature daw 'to sa Pinaka show ni Rovilson sa Q TV. And since taga-Baguio si Joey, we tried the resto. It was crowded. For sure, sobrang mayaman na ang owner nito. I never saw a dining place that was so full and the queue was long (either for take out or for eat-in). The fun thing was, there's no list for diners. You have to do the table waiting on your own. Since we're six, we strategized and scattered. It was me who got a table. Naisip ko, pwede sa Amazing Race ang table waiting nila.
Sobrang sarap ng pagkain. I'm no Anthony Bourdain but I know, deep in my heart (naks!), the food is great. We ordered buttered chicken, white chicken (which is their version of Hainanese Chicken), lechon kawali (theirs is adobo style with skin still crunchy) and pansit canton. Our share was P130 each and we took out the extra food. Sobrang busog.
For early dinner, we headed to Oh My Gulay! which was owned by the filmmaker Kidlat Tahimik (he was there). It is a vegetarian resto, set with theater props-like artwork and lighted cinematically, overlooking Session Road. The place alone is worth a visit. Food is yummy as well. The girls liked the talong dish and I enjoyed my pesto. Ang drawback sa place, they were understaffed but they were at least apologetic. Maybe they were not used to full house on events like the Panagbenga. We struggled with the orders (now you see it, now you don't) and I can't believe that they ran out of bottled water. I, for instance, didn't get my drink (which brought me to buying a bottled juice in SM after the dinner). Maybe that's the charm of the place. The whole thing is an art piece. Either you love it or you hate it and the artist doesn't care.
Nightcap was done in Cordillera Coffee in SM Baguio. I had Benguet coffee and a slice of carrot cake. We opted to something local over Starbucks and it's definitely a worthy choice. It's good to note that it wasn't crowded despite the Panagbenga.
Street Parade
The next day, I woke up at 4am. This is to anticipate the lone bathroom queue. We (except Grace and company) attended the mass at 6am. The cathedral, by the way, is just five minutes away from our hotel. At 7:15am (expect the photo-op after the mass), we were finding our way to get into the crowd. This time it was really crowded. Chelle and I got our way to the Post Office entrance while Leah even climbed a tree to get a nice view. Mel F and Lorelie decided to find their place along Session.
As expected, the floats were colorful as ever. I notice that the designs were more elaborate as compared to my first Panagbenga, very Rose Parade. There were a total of 23 floats and some of it had Kim Chiu, Gerald Anderson, Valerie Concepcion, Christian Vasquez and Ogie Alcasid. I particularly liked the float from Baguio Country Club. I has a sphinx in front and it was segued with dancers in Egyptian get-up. Hindi na raw kasali ang float nila dahil parati raw nananalo. Aside from Kimerald, loud cheers were given to the PNP float with some policemen (and a policewoman) wearing police uniform on top and bahag. Parade lasted for two hours.
Food Trip Encore
We headed back to Cordillera Coffee for lunch (my breakfast, by the way, were two pieces of banana and a cup of strawberry taho). This time, we already checked out and we had our bags on. For lunch, Leah, Chelle and I had the Cordillera breakfast and Benguet Iced Tea. It was a longsilog with homemade skinless longganisa (which looked like a croquette to me), scrambled egg and brown and red rice. Sorry longganisang Lucban from Buddy's but I can say that it's the best longsilog ever. Mel F enjoyed her risotto as well.
After malling for another hour, we were off to the Victory Liner terminal, became chance passengers again (with 2:40pm tickets) and left Baguio at 1:15pm.