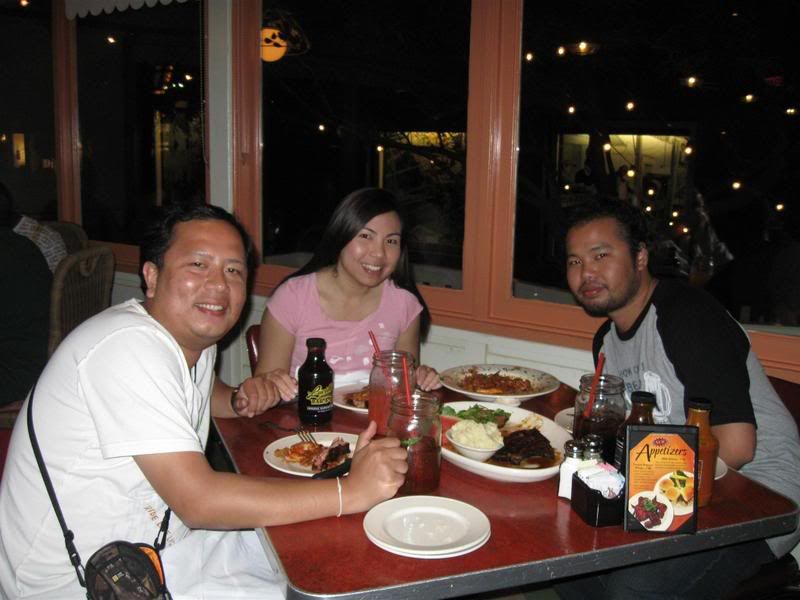 B-Lag as in Blog + Lag.
Leaving Kentucky was a bag of mixed emotions. I can say there's nothing much in Bluegrass State in touristic aspect but departing from a place that has been a home to me, amidst t-storm warning and surviving depression as if never happened, for two months was another thing. On the other hand, LasVegas was waiting.
Reaching Las Vegas is an experience on its own. The Nevada desert preempted a not so exciting trip. As I looked down from the plane window, I didn't see anything that was worthy of an andrenalin rush. It was like a wasteland, a Mad Max scene, and a series of sand dunes reminiscent of
Panday
. I was expecting to have a glimpse at least of the Grand Canyon but no dice. Maybe I was on a different plane route as I saw sand and bald mountains only. When the pilot announced a descend, right after passing a giant mountain, that was the only time I saw an oasis of city houses and establishments. That was out of nowhere! Welcome to Las Vegas.
From the huge airport, with service trains that send you to the baggage area, Junel picked me up. He's a contemporary in terms of biological age (hehehe) but he joined the company I think a year before me. I have worked with him on at least two projects and it was always a pleasure. Right from the airport, with my luggage at the compartment, we went directly to The Strip (Las Vegas is The Strip, The Strip is Las Vegas). We parked at MGM, had a quick browse of the hotel, crossed the street and had lunch at Hooters. It was my second Hooters (first was at Singapore) but it was my first time to try the famous Buffalo wings (which I can say is the best, seconding Junel's motion). I had the chance to have a photo taken with a waitress, who happens to be a Filipina with a twang.
From Hooters, we walked to the nearest hotel/casino called Tropicana, getting a nice view of New York, New York and Excalibur. By the way, The Strip (which is Las Vegas Boulevard) is a street packed with gigantic hotels/casinos, with different wit and gimmickry, nothing more and nothing less. It's just each hotel/casino boasts of an itinerary list on its own. From Tropicana, we took the overpass going to Excalibur, had another Friendster picture and got inside New York, New York (on top was a rollercoaster, take that!). Similar to other hotel/casino, the place was filled with shops, restaurants, betting place, poker area and slot machines. Junel quipped that newer hotels/casinos have higher ceilings and New York, New York is one of it.
We then crossed the street (the heat was energy zapping, by the way, and sunblock should always come in handy) and stopped at M & M Museum (or shop or whatever). Junel suggested watching the 3D presentation of an M & M film. It's entitled "I Lost my M in Vegas" and it stars the two lead chocolate candys. It was short but fun (especially when you're in a company of kids). From there, we went back to MGM to get the car with a long pause at the hotel's Lion Habitat where two lions are kept for public viewing (and amazement).
Next stop was Planet Hollywood, which is located just across Bellagio (where we parked). Junel informed me that the hotel/casino was one of the shooting locations for the film "21" (starring Jim Sturgess and Keving Spacey). We went to the Fat Tuesday daiquiri bar (they're everywhere in The Strip) and got a tall glass of alcohol (I don't exactly know what's in there but Junel highly suggested it). Junel spent most of the time playing at the slot machines as I explored the area with a camera on one hand and the tall glass on the other. I visited the theater entrance for "Stomp Out Loud". By the way, most hotel/casino have theaters/auditoriums inside the building. Bellagio and two or three others have different Cirque du Soleil shows, others have musicals like Mamma Mia!, Phantom of the Opera, Jersey Boys and "performing arsts" like Showgirls-y type of shows and Chipendales. Our very own Lani Misalucha just wrapped up a series of shows at Flamingo and I was informed that Imelda Papin was having her show somewhere in The Strip as well.
At 6pm-ish and a bit tipsy, we were already in front of Bellagio, waiting for the fountain show. The musical suite we caught was "Singing in the Rain" and the fountain transformed into an attraction as its water sashayed into the groove. It was another fun experience. Not bad from somebody who just came out straight from the airport. We left the area early, as Junel was about to catch Pinoy TV's showing of "Bubble Gang". Too bad, the station changed its schedule, making us endure late night news and Regine's "Songbird" (with songs from all GMA's tele-fantasya).
After a long break, Junel invited me for a nightcap at Red Rock (another hotel/casino near his apartment). It boasts some hip bars where one of which was used in "21" (I can almost remember the scene where Jim Stugess got drunk). We cut the trip short, as Junel was not feeling well (it was past 12am, by the way). We just had some drive-through goodies from Burger King as midnight snack.
Next day was jampacked. We woke up as early as 9 in the morning and drove for 45 minutes to see Hoover Dam. It was famous because of a genius structure but it was made more famous by the films that were shot there including "Charlie's Angels" and just recently, "Transformers" (where Megatron was imprisoned). There's nothing really much in the area. Junel even opined that it was overrated. Just to note though that the boundary of Nevada and Arizona is seated in the middle of the bridge. Junel, as expected, quoted a clip in the film "A Walk to Remember" where you can be in two different places at the same time. To top it all, he asked for a solo picture in the boundary marker.
We then headed back to The Strip, had lunch at the Vietnamese restaurant in Treasure Island called Pho. He left me in there and spent the rest of the day casino/hotel hopping over one hot summer Sunday.
From the hotel/casino, I took a tram (it's free) going to Mirage. From there, still with enough vigor, explored The Venetian (voted as the best recreation complete with gondolas and "Solo Mio"-singing gondoliers), The Forum Shops at Caesar's Palace (one of the most
sosy
malls I have seen in my entire life, complete with a spiral escalator), Caesar's Palace Hotel/Casino (I personally adored its Pussycat Bar, with poker tenders wearing, slightly gyrating and singing a la PSD and its concert stage that was visited by some living legends like Bette Midler, Cher and Elton John), Bellagio (the book "1000 Things to Do Before You Die" enlisted this hotel as a must-visit, which I did including the hotel's art museum façade and, err, pool area), Excalibur (a rather old building but still an icon), Mandalay (home to Pacquiao's latest bouts and concerts) and Luxor (the Sphinx, period).
From Mandalay, I was picked up by Junel and Tin-tin (another officemate and a die-hard Kapamilya like me). We went to Lucille's Smokehouse Bar-b-que for dinner. The place was many times recommended so we gave their sampler a try. For dessert, we headed back to The Strip for me to experience it at night. We just cruised along and I took some photos on red light (my very first trip where I completed a 2-gig plus memory card in one day). To cap the night, we went to Fremont District, passing some chapels (including one that offers a drive-through wedding). It was Las Vegas long before The Strip. Some signs claim that poker was born in that area. We parked at one of the old casinos, passing through some old-school slot machines and chain smokers. Similar to The Strip, the district is just one street of colorful of buildings but far shorter. The end of the road has the Golden Nugget (where Martin Nievera used to perform), some photo-op with a showgirl and what-have-yous, a motorcycle show (specifically the Guinees book of world records holder for most bikes inside a round enclosure) and long ceiling made of LG digital screen that transformed into one cinema (it's the longest I have seen).
I can't be thankful enough for Junel (and Tin-tin) for the nice experience. Nevada is the sixth US state that I have visited but Las Vegas is definitely a toprater in terms of sights and senses. That makes me wonder why Paris is called the City of Lights while Las Vegas is not claiming anything.
More pics
here
.