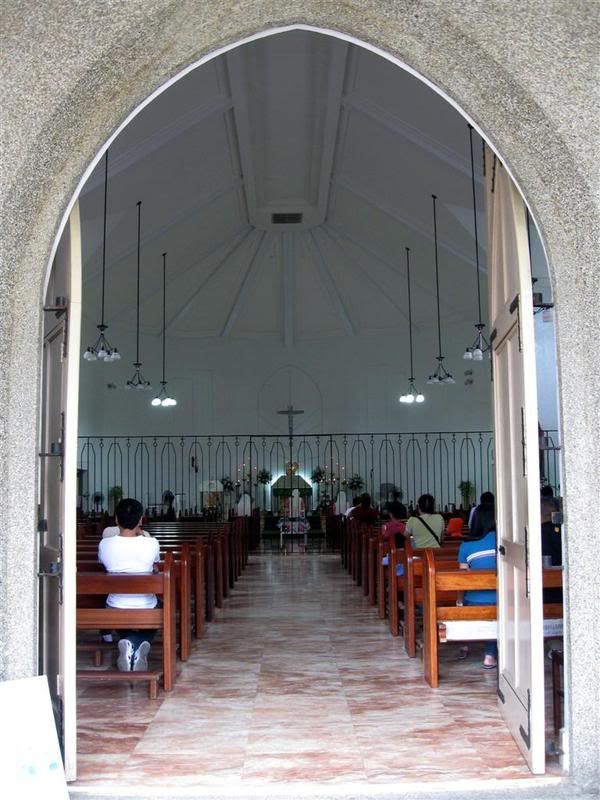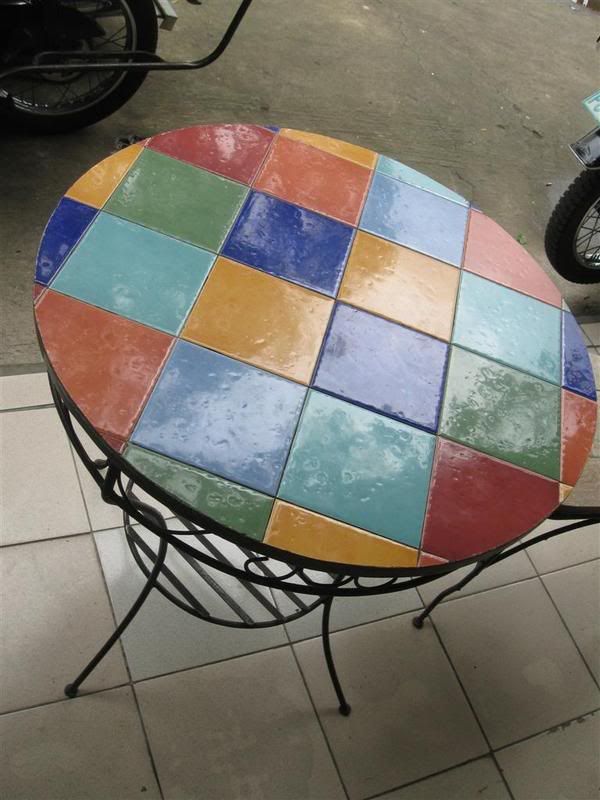 (Clockwise from top left: a tarragon, entrance to Adoration Chapel of the Divine Mercy, an al fresco table in Olivares Plaza, an ornament in Gourmet's Restaurant, flower along the path in Gourmet's Farm, Tagaytay pineapples and a tree in Picnic Grove/People's Park)
Why not? Got no car, got no extra moolah. Just my red backpack and that backpacking spirit. I was rewarded with another experience that borders from food to places and adventure.
OK. So first things first. I began the trip on a Saturday morning (as early as 8am) by having a breakfast at Jollibee near the MRT - Taft station (facing Taft, exit to the left side of EDSA). Behind the buildings on that area is a vast parking space for buses heading to Cavite. I took an Erjohn and Almark liner going to Nasugbu. Fare to Tagaytay costs P83 only.
I alighted at Olivares Plaza in Tagaytay City proper. Commuting to and from the city center is very easy. From Olivares Plaza (or from Silang, Cavite, to be more specific), the city forks into two directions. Consider the city landmark roundabout as the focal point. Turning left is the road that leads to the Picnic Grove/People's Park which would eventually bring you to Palace in the Sky. Turning right is heading to Mendez town, the same option where Residence Inn Zoo can be found, plus a long stretch of restos and and viewdecks. Jeepney fare minimums to P7.50 while a tricycle ride from the roundabout is a hefty 50 bucks.
My itinerary wasn't that Amazing Race-y. From Olivares Plaza, after much musing with a seemingly endless array of
ukay-ukay
finds (the second biggest collection after Baguio perhaps), I went to Gourmet's Restaurant for a heavy serving of panfried pork chop (German/Austrian-style) and potatoes. Capping the noon is a slice of blueberry cheesecake a cup of houseblend coffee. That was after completing a short 8-hectare guided tour in the farm with one of the staffs. I was introduced to herbs like tarragon and lettuces like the Lola Rosa variety. Tour fee costs P50.
Next stop is the house of the pink sisters. I had fried lumpiang gulay with vinegar along the way (a healthy street food). When looking for a place to stay for one night, the tricycle driver recommended a room for rent near the Picnic Grove/People's Park. I was going to that place anyway so I gave a damn. Rent ranges from P1,000 - P1,500 in that area, depending on your haggling skills. I think you can get a cheaper rate if you prefer a fan instead of an aircon which you won't be needing.
I can't remember how many times I've been to Picnic Grove/People Park but it seemed nothing has changed. They introduced a new set of fun stuff like zipline and cable car. A two-way ride for both costs P300 while one-way is P200. An extra P100 for souvenir picture on a wooden frame. Since I was already there, I tried the zipline amidst acrophobia and the cold breezy weather. I made the sign of the cross, of course, before hitting the ride. It drizzled at around 6pm. People in jeepneys and vans were already leaving. That's the time I had to get a cup of hot Nissin noodles, supreme beef flavor, and finished it while looking at the Taal Volcano that was starting to be eaten by dusk. Life at its best and most calming.
Dinner at RSM Lutong-Bahay with bulalo steak and mixed fresh veggies in oyster sauce. I was not aware of the resto until I asked a fruit vendor for the best bulalo place in town. She mentioned Leslie's and RSM. I tried the latter since it sounds less popular. After dinner, it's hard to get a jeepney ride back to Picnic Grove/People's Park area. Got no choice but to take a tricycle.
Nothing memorable in the morning except getting up early and enduring the morning breeze while waiting for a jeepney that was bound to Olivares Terminal. That completed my definitely definitive Tagaytay experience.