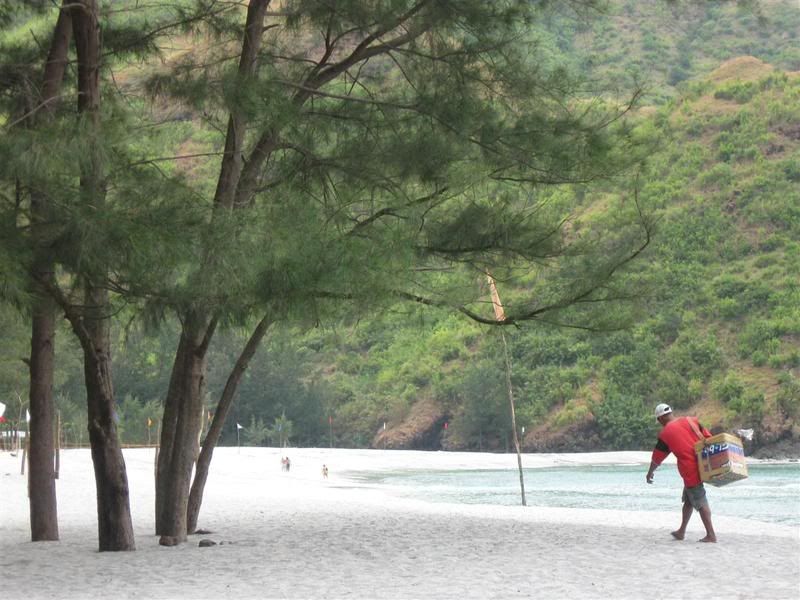 More pics
here
.
Reaching Anawangin Cove on foot (from Brgy. Pundaquit) was a bit challenging. I thought that it was just an easy trek. I didn't even prepare for it physically. In JEST, at least I attempted to jog for two weeks. It turned out that the trek, err, the climb is more draining. Now, that's not in jest.
We took the 11:30pm bus trip from Victory Liner - Caloocan to San Antonio, Zambales. As expected, the town was still sleeping when we arrived and we ended up just having a piece of pandesal for breakfast. At 4:00am, our manong guide fetched us with five tricycles. We alighted at
manong
guide's place and spent 15 minutes to freshen up and leave the heavy stuff. It wasn't planned to leave the food for cooking but we were having some doubts that the fresh meats won't make it. Plan B was to put the food in a cooler and bring it to Anawangin through a boat. We decided to leave the other items as well like water and tent for our convenience. That was an answered prayer for me as I was initially figuring out how to carry my weighty bag and reach the cove alive.
The whole trek took us four hours and 45 minutes to accomplish. It was tiring especially during sunrise when we can finally see what's ahead of us. Trekking at night with moonlight and a flashlight is more fun. The peak overlooking the cove was great and it's also a good spot to have a long rest and photo-op.
The rest of our Saturday was spent with setting up the tent, having siesta, swimming and of course, partying. Exciting part, of course, was the
tsismis
/The Buzz segment during the bonfire. But as a pact, what happens in Anawangin stays in Anawangin.
For lunch, we had fish stuffed with tomatoes, onions and ginger plus "baked" potatoes with cheese and bacon bits. Dinner was more like a fiesta as we cooked sisig, pork chop with veggies and optionally, the dreaded chicken meal (we were not sure if the meat was still fresh and we ended up just dissing it after overcooking it). Breakfast was an overload of TJ hotdogs, instant batchoy, fried sardines, Vienna sausage and coffee or Milo. Most of the dishes were cooked using an aluminum foil/wrap.
On Sunday, with muscle pain in tow, we opted to take a boat back to Brgy. Pundaquit. I thought that the whole Anawangin experience was over but the boat ride itself has a story to tell. Our pump boat, Prince Eb (Jay said it's Prince Eyeball) stopped right after breaking the waves on the shore. Our
bangkero
tried to revive it but to no avail. It should be fun if it's summer. Big January waves and me, a non-swimmer, is definitely not a good combination. My boatmates Benjie and Jay kept their cool while I was silently calling all the saints. To keep us from being stuck, another boat (with Allan and company) pulled our boat up to Brgy. Pundaquit. I thought it was really over. Before hitting the shore, our boat had to empty out its passengers, as our
bangkeros
will just paddle it out. This is to avoid capsizing when the boat arrives at the wavy part near the shore. Jay singlehandedly transferred to Allan's boat and Benjie, to Ge's. I had no choice but to do the same in Sadah's boat. For the non-swimmer in me, of course, that was scary. Luckily, I did it. Imagine my left foot still in Prince Eb while my right, on Sadah's boat. I don't know how I did that but I remember bitching something like
"Andaming bag, saan naman ako aapak dito?"
Similar to what we did on our first visit, we chose to go to Olongapo first and purchased our ticket from there to Pasay. Late lunch at KFC (subconsciously getting rid of the chicken scare) then at 5pm-ish, we're off. Bonus along the trip was a cinematic view of the full moon.