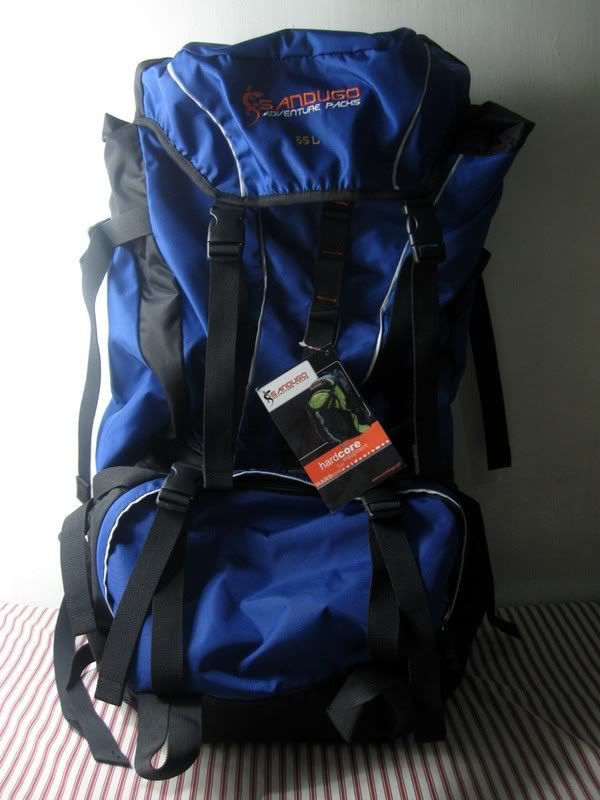 Just got back from an emergency shopping. I had to buy (with a forgiving emphasis on "had") a new trek bag for the upcoming hike to Anawangin Cove (starting point's at Pundaquit, both in San Antonio, Zambales). I've been to the place before but we went there through a boat one hot summer. This time, we're opting to trek it. Honestly, I don't know how physical it will be but at least I have a new bag to boot in case I pant like a dog along the trail.
Anyway, it's a 65L blue Sandugo bag. Let me baptize it with the name Fincher, as in David Fincher of "Fight Club" fame. My departed Dutch bike, by the way, was named Scorsese, no pun intended (I should have named it Verhoeven). I got it from Sandugo Camp in Market! Market! for P2,925 (which, with less guilt, is 10% off). I also got a cheap waterproof flashlight from SM Makati (P399.75), a lighter, a pack of baby wipes and four liters of bottled water.
Oh well, as of this writing, I'm excited with the 15-man group of trekkers this Saturday (departure from Caloocan is at 11:3opm). It's gonna be my opening salvo for 2009.
P.S. Before I finally delve into a new series of adventures for 2009, let me share some of 2008's residue through the pictures below. One is a competitor of Rustan's while the other is a not-so-clever breakfast store. Next is one of SM Lucena's better food court stalls that sells a yummy serving of bulalo (and lumpiang sariwa) for P85 only (it's unusually called Bosbarnn and don't ask me why). The rest is a melange of lunch pictures taken this noon at Abe and some snapshots of Sandugo Camp.