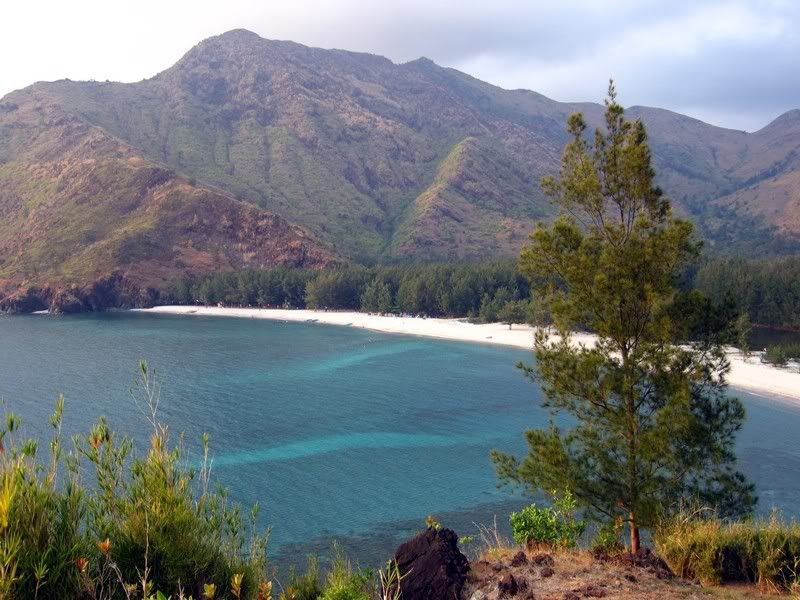 More pics
here
.
If you (and your credit card) are too tired of long summer vacation plans, a well-deserved trip to Anawangin Cove in Brgy. Pundaquit, San Antonio, Zambales is for you. Just two things to consider though: you must have a tent and the spirit to stay in an island with no electricity and hip clubs.
Here are some how-to's:
1. Along with your tent and backpack, get yourself a lift to San Antonio, Zambales. It's two towns north of Olongapo (I think) and it's now making a name through blogs and the famous Kapuso soap, Marimar (a resort in Brgy. Pundaquit is used for some of the major scenes). We went there last weekend through
Victory Liner
but there are options for those who wish to bring their own car (makeshift parking lots for rent can be found near the dock). Most of the Victory Liner stations offer a trip to Zambales but it is the Caloocan station that has more scheds (bus leaves every 30 minutes). It is advisable to give them a call just to make sure.
As for our group of 15 survivors (we call our trip "Survivor - Anawangin"), we rendezvoused at Goldilocks in Buendia - Taft Avenue (near Pizza Hut, 7-11 and Wendy's) then took a 15-minute LRT1 ride to Monumento (P11).
From the LRT1 exit, turn left (right has Jollibee, Chowking, etc.) and take a short 5-minute walk. The bus station is at the left side and you need to cross the street to get there. You'll pass through the Victory Mall to reach the location of the old station (the new one is for Olongapo and other trips). Co-survivors Zherwin and Lyn informed me that the place used to be dingy where snatchers and
holdapers
were lurking.
Go straight to the ticket booth (where queues are normally present). One-way ticket to San Antonio, Zambales costs P222 plus P5 for insurance (this is optional). The bus is actually Iba, Zambales-bound. You have to inform
manong konduktor
to throw you at San Antonio public market. There's a 15-minute bus stopover at Double Happiness. I don't know exactly where it is but it's a haven for cheeseburger take-out, restos and toilets. Please note also that the bus gets crowded after a short stop at the Olongapo station.
2. The public market at San Antonio, Zambales is at the back of the municipal building. You might be puzzled at first that instead of a wet market, a statue of Teodoro Yangco is waiting for you. Just take the first corner after the statue then turn left.
We arrived at the market at 2pm-ish. It wasn't busy then and some stalls were already empty. It's just the perfect time to go shopping for the food and booze. Lunch is an option since some
carinderias
were still open. A contribution of P100 each gave us some plastic bags of green mangoes,
bagoong
, rice, coffee, tasty, canned goods like
sisig
and corned beef, hotdog and
pulutan
. Already in our bags are two bottles of Generoso brandy and a bottle of Arkan Vodka, melon flavor (highly suggested for summer!).
From there, we took a tricycle ride to Brgy. Pundaquit. They charged us P20 each for four trikes loaded with 15 passengers complete with camping bags and backpacks. I guess the trick is on the load. I read from other stories that the drivers sometimes charge P35 each so beware. The whole trip from the market to the dock took us at least another 15 minutes of dusty road, bridges and a bucolic view.
3. The port at Brgy. Pundaquit also offers overnight parking space, some beach resorts, a common toilet and shower room, small cottages for swimming and videoke and a yummy special halo-halo worth P20.
From there,
bankeros
(ours is named Robert, +63-921-6026319) will come in handy offering a two-way ride to Anawangin Cove. You need your hagging skills here (our co-survivor Karlo is good at this). For our group, we got three
bancas
(complete with life vest) costing P850 each (making us pay for P170 each for the two-way ride, P850 x 3 = P2550 / 15). The sea trip lasted for only 10 minutes (for me it lasted a decade for I can't swim and it was wavy). Be ready to get wet a little especially if you've got the front seat. The cove, by the way, is connected by land from the dock. This means that you can reach Anawangin through a 3-hour trek (just inquire the
manongs
at the port). This also means that the sea trip is more of shore-cruising than inter-island.
4. Anawangin Cove is so pristine that you cannot find any cemented establishment. The first thing to do after you docked is to agree with the
bankero
when to fetch you the next day. On our part, we agreed at 11am. Lots of tents were already planted in the cove when we arrived. They probably came from Metro Manila just like us. A big portion is fenced and is well-kept. That area costs P150 each. We settled for the "public area" and paid up P50 as conservation fee.
Other than the area for camping, there are two sets of makeshift toilet made of
pawid
and another pair for shower. You have to pump the
poso
for water then bring the
balde
(bucket) with
tabo
(dipper) at the shower/toilet.
Manang
Ligaya and her family maintain the place. They are keeping the garbage, lending some thermos for hot water and grill for barbecue, offering cooking services that we availed for rice and hotdog (amount is up to you), repairing the
poso
if needed and working as cashier for the conservation fee.
Since the cove has no electricity and no celfone network signal, there's nothing much to do but enjoy the sunset, the sand and the beach. My first impression was that we were transported to a place outside the Philippines (everybody was commenting with
"Parang 'di Pinas!"
). It must be the unusual combination of tall pine trees and white sand. I was actually reminded of a cove that my family (except my father) and I had visited in the South Island of New Zealand (where I slept in most time of the cruise).
Of course we did not just end up enjoying the beach. We had an enormous photo-op at one part (where a river-like picturesque clearing is located). We also climbed to a hill (the other end of the cove) for more photo-op and sunset experience. The "peak" has a nice POV of Anawangin and therefore a must-hike.
5. Bus back to Manila is not as easy as the way you get one from Caloocan. You have to wait at the mini bus stop in San Antonio (at the other side of municipal hall) and most air-conditioned busses are already full. We decided then to take an ordinary bus (blue-colored) to Olongapo first (P30) then take another bus at Victory Liner station in Olongapo heading to Pasay (P186 + P5 for insurance).
6. For your budget, below is the summary of expenses (total of P819 only):
LRT1 ride to Monumento: P 11
Victory Liner trip to San Antonio Zambales: P227
Food contribution: P100
Tricycle ride to Brgy. Pundaquit (two-way): P40
Banca ride to Anawangin (two-way): P170
Conservation Fee: P50
Ordinary bus trip to Olongapo: P30
Victory Liner trip (Olongapo to Pasay): P191