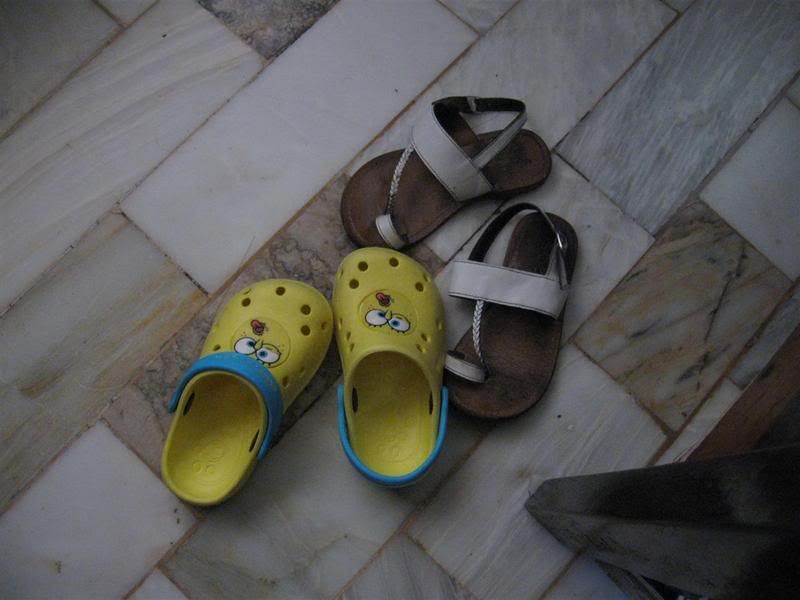 I miss my
"pamangkins".
Last Friday, I sent them to the airport. I had to leave the office at 4pm (yes, I was already working at 7am, beat that) to catch the guys at Perla Mansion in Palanca St. where my brother's family was billeted. I rang a cab at 12 noon just to be sure that I will be in the said service apartment by 4:30pm. As expected, they were still doing some last minute shopping in Glorietta so I had to walk from Palanca to G1.
I caught my "pamangkins" and
ate
Bing at Time Zone in the open space leading to SM Makati. Kuya was in Goldcrest buying celfone units that time for their SIM cards in roaming (plural as in one each for Globe and Smart). I never imagined before that I would play dad to kids in the mini rides on that particular section of the mall where I usually pass by from work. It was fun.
Two weeks of blog silence means great family time. From the minute I met them at the airport last October 3 to Krista's kiddie party (and a birthday cake surprise for kuya that left us both teary-eyed) in Shakey's – Morato and another in Payatas, watching PETA's
"Mga Kuwento ni Lola Basyang"
plus my three-day stay in Lopez with the whole bunch and pushing stroller and making a wish in High Street, my world simply stopped. There's nothing more worthy of smiling than hearing my "pamangkins" laugh and cry and laugh again.
I had a grand time bonding with both Krista and Franco. I just have to single out though the moments I had with Franco. Last time I saw him was when he was still a baby. He likes Disney's "Cars" a lot (while Krista knows the princesses by heart). Before their trip here (a surprise one), I sent them two lunch boxes (Wall-E and Cars), two pairs of Spongbob (Franco cannot pronounce the "S" yet so it's just "Pongebob") and shirts (Hannah Montana for Krista and Cars again for Franco) through DHL. Those made Franco look forward on seeing me in person (he's too smart for a boy turning two this coming January). Of course, I had to keep that impression unfailing. I bought him a gift (Lightning McQueen toy car) that he opened the minute we arrived in the hotel. His reaction: priceless!
That probably sealed the best friendship between Franco and me. When we were in Lopez, the first thing he loved doing was to go to me and have morning chitchat (not about Anne Hathaway…yet but on toys, what else). We also had this little game wherein I have to call him something and he has to counter it with anything on the same category. I always start with "Franco, you're a water". Then he will reply with his favorite, "You're a juice." That goes on until I run out of a "drink". Then we will do animals then house appliances and cartoon characters. Leaving Lopez one Wednesday was difficult for both of us. Kuya texted me one time that Franco cried while looking for me after having his daily siesta.
At the airport, we had a group hug. Franco was still holding my hand when he got in the entrance. He was actually pulling me. Kuya had to remind him that I couldn't come with them. And he let go. I ended up waving them goodbye from a far. I was of course daydreaming that time that they'd return the next day. Until
manong
guard uttered something familiar.
"Sir, bawal pong tumambay rito."
Pics of Krista and Franco's trip to the Philippines
here
.