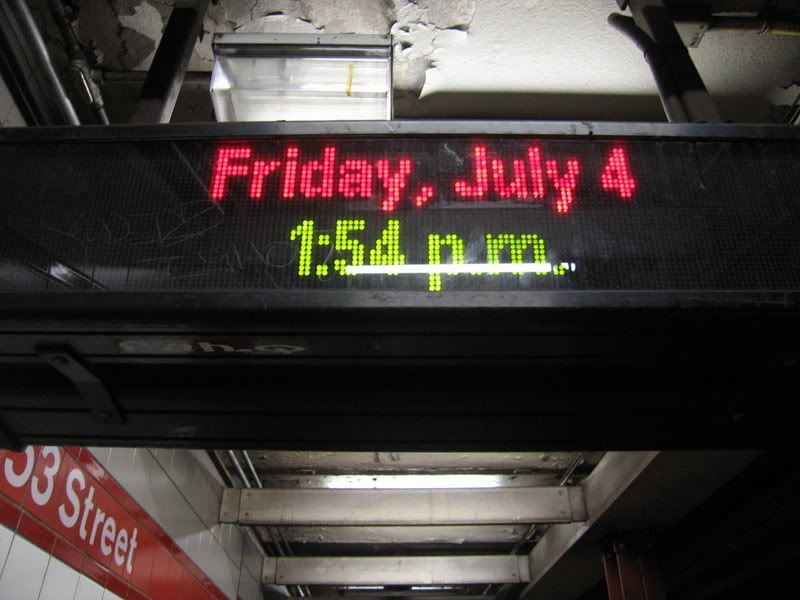 Complete set of pics here.
Our first day was a combination of something patriotic and glam. We can't afford to sleep more to recuperate from last night's flight so off we went to the following pit stops: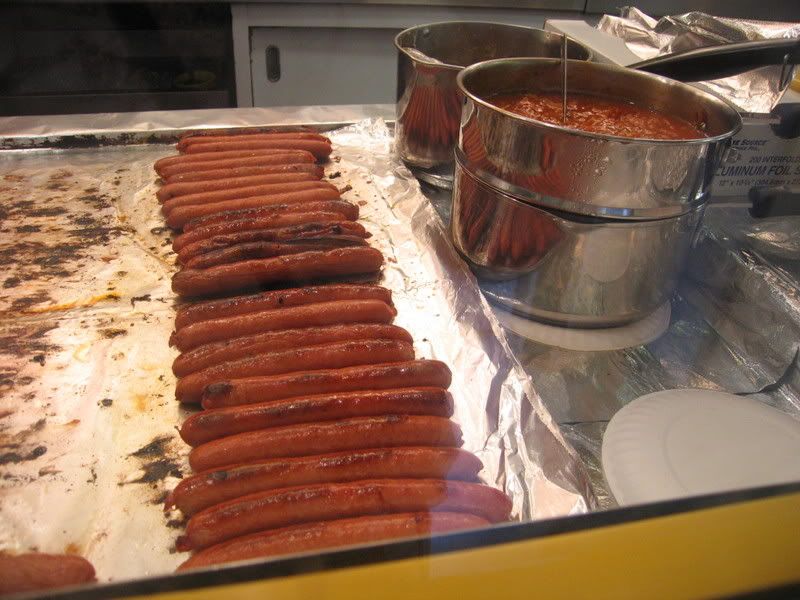 GRAY'S PAPAYA – Don't be misled, this is a hotdog corner. And what a way to start that thing called New York walk by having a nice hotdog sandwich for breakfast. It's cheap and yummy and very much celebrated. Just check out its
Wikipedia entry
for more info. This itinerary was Vistan's suggestion footnoting "Fools Rush In" for the eagerness. Perhaps the most monumental part in this hotdog experience was that we had our very first Pinoy sighting in the form of one of the stall's staffs.
STATUE OF LIBERTY – Of course, what's New York without this touristy choice. To go there, we took subway Line E, down to the South Ferry Station. We were not aware that we were already in the train stop. A Salma Hayek-ish girl approached us and prompted us that it was time to alight. For that particular trip, we were informed that we should stay in the train's first coach to get out. Well, the idea of coach-hopping was very cinematic (as in you have to really experience pulling the sliding door while trying not to trip off).
First thing to do to see the famous green statue is to head to Battery Park's Castle Clinton which looks like a round citadel reminiscent of walls of Intramuros. The ticket booth for the ferry is right in the middle of the "castle". For both Liberty and Ellis Islands, the ticket costs $16. That doesn't include access to dear Liberty's crown.
Next thing is to queue which will either take a few minutes or an hour, depending on what time you arrive to the area. At 9:30am, it was pretty long. And it was raining that day. Thanks to my P55-raincoat and the boyscout in me (hey, Vistan got my blue jacket and red "guwapo" hat while Vianney and Waw had my mini-umbrella). Ferries to the islands arrive every 15 minutes but the security check is something that should be considered. Imagine how your carry-on bag is checked in the airport, it's close to something like that.
Well, the ferry ride itself was worth the price. We had a nice view of lower Manhattan and some parts of New Jersey. After another 15 minutes, we arrived in Liberty Island. Not all passengers had alighted for the ferry then headed to Ellis Island. It's just a small island but too big for photo opportunity. For 45 minutes, we strolled around the statue which was more gigantic than I expected (and far bigger than its Paris counterpart). Liberty's green texture is, by the way, caused by oxidation, according to one of the signposts in the area. The copper, which is dark brownish in nature, reacts to air, making it green. This fact is supported by the roof of some of the buildings in Manhattan.
ELLIS ISLAND – On personal note, this is one of my favorites among the "attractions" in New York. In the island is one building that once served as immigration center for all the migrants from all over the world. Very historical and rich in stories to tell. If only the walls could talk, it must be telling about how New York became multi-cultural and multi-lingual. When we visited the center, there was an ongoing play (it's free) about Bela Lugosi's entry to the US. We skipped that one since we still need to accomplish other items in the itinerary.
FIFTH AVENUE – After visiting the haven for photography buffs called B&H, off we went to Fifth Avenue through Line A. First spot was a church that we mistook for St. Patrick. We were walking south-bound then, passing a Zara store which was a flytrap for the girls (later on, Vianney, got a new gray hoody from the shop). After locating the real St. Patrick, we just crossed the street and was tempted with the first "I Heart NY" classic tee store. We all purchased a shirt for $6 each only to realize that Chinatown sells it six for $10. Fifth Avenue, by the way, is our Ayala Avenue.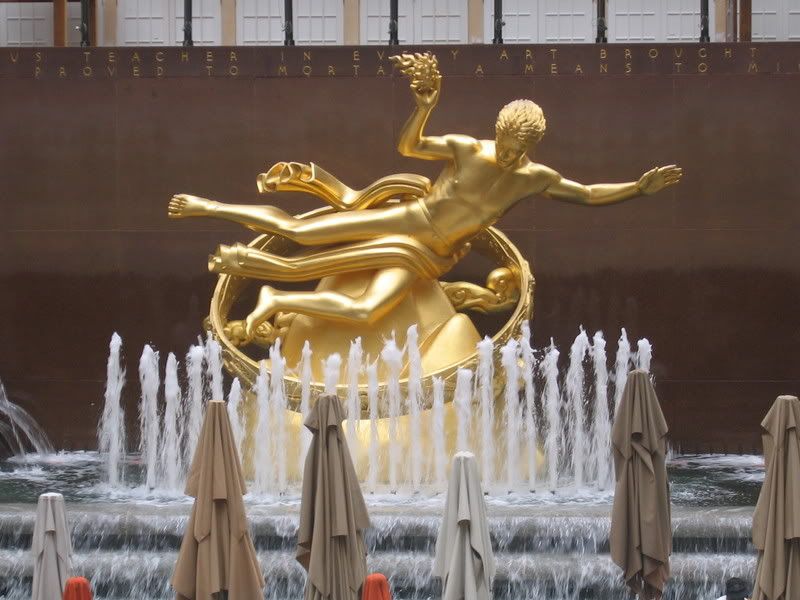 ROCKEFELLER CENTER – The area is a pleaser. It has shops, office space and the NBC studio. In front of GE Building, you can find the landmark bronze Greek god statue. In winter, the area is transformed into an skating rink overlooking a huge Christmas tree. We didn't spend much time in the area as we were looking for café to recharge and have some caffeine fix. That time, I wanted to avail the NBC Studio Tour but time was limited and rest, a luxury.
NEW YORK PUBLIC LIBRARY – I have to admit that what fascinated me to include this in the itinerary (aside, of course, that it's along Fifth Avenue) was the fact that the film franchise of "Sex and the City" had some scenes shot in the classic Beaux art building. I am talking about Carrie's wedding with Mr. Big (which was called off and Sarah Jessica Parker had to deliver a nice breakdown scene in one of the stairways). After having a photo taken on that particular corner where Carrie did not say a word and just dropped her celfone, we hung out at the façade's stairs (a la Guerrero Hall). There was an ongoing street performance and the mood was very much like a Sunday afternoon.
GRAND CENTRAL TERMINAL – From the public library, we turned right to 42nd St. and headed to one of New York's defininite familiar sights, a train station that is so grand and definitely the cleanest I've seen. Though the place was a bit busy for a July 4, I didn't feel exhausted at all. The interior has a cozy ambiance as intensified by some zodiac constellations on the ceiling (Virgo is definitely missing). Soft lighting helps a lot to add texture and drama to what's already dramatic vibes in the area. Toilets are clean and easy to locate (and no gritty cinematic feel of hookers sauntering around).
CHRYSLER BUILDING – Still along 42nd St., we passed by another iconic building which is called Chrysler Building (another proof that I 'm not really into cars as I incorrectly pronounce this as "crees-ler" not "crys-ler"). It's most of the time shown in a scene that is supposed to be in New York City.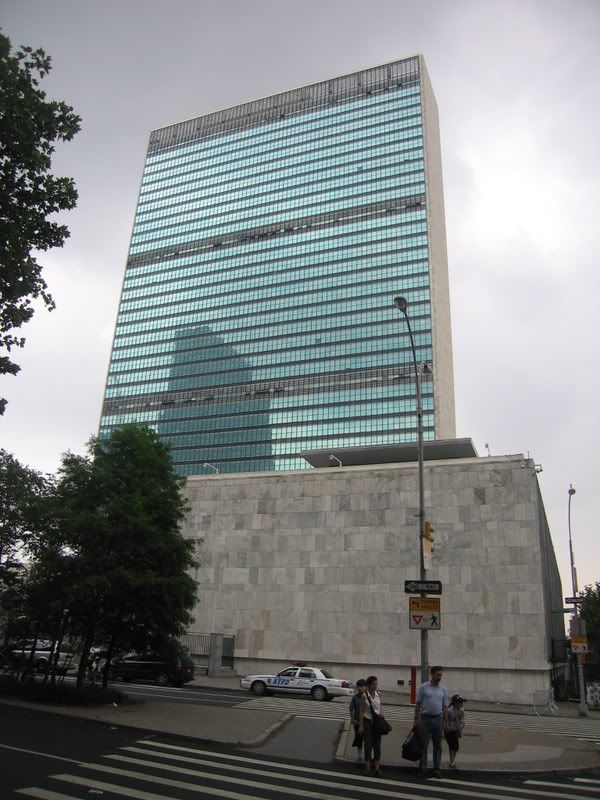 UNITED NATIONS HEADQUARTERS - For few more blocks, we were in front of the United Nations Headquarters which is not that impressive from the outside but it's good to see that very important building. That's also where the queue's starting point for the fireworks. Before we lined up, an NYPD officer's attention was caught by my little travel book called "Top 10 New York - Eyewitness Travel Guide from DK" (I'm a fan of the series but I got the idea from Leah for she has most of the titles). Mr. Policeman did some scribbles on the book as he suggested for a must-visit list. He also mentioned that he always makes it a point to accomplish the top ten spots everytime he visits a city. The conversation ended by pointing us to another officer named "Richard" who, as the officer said, happens to be a Filipino. We didn't bother approaching the other guy.
MACY'S JULY 4th FIREWORKS – Along Franklin D. Roosevelt (simply FDR) Drive and right behind the UN building, we secured a nice spot to wait for the sky to be lighted up with fireworks. If the whole NY trip is a leg for "Amazing Race", then the waiting game was probably the Yield segment. We did hang around for more than three hours while being soaked with occasional drizzle and talking to some accidental "kababayan". Fireworks display started at 9:30pm which was a sensual experience and comparable to what I've seen in Pyro Olympics back home. The whole show lasted for 40 minutes. We ended up both satisfied and hungry. And the accident along 2nd Avenue leaving a man lying on the slippery street didn't help. We're clueless if he's still alive. What we're sure of is that we're immortals as we managed to reach the hotel on foot (2nd Avenue corner 42nd St. down to 9th Avenue corner 36th St.). Tip of the day: always bring Alaxan FR.