Bangkok Day 4 photo album here.
At last, my last day in Bangkok. It may sound clichéish but it was mixed emotions in the morning. Sad that my vacation was about to end and happy because I saved some good stuff for last. Day 4 was mostly spent walking around Bangkok (which I think was the best way to experience the city).
Down with my last cup noodles and some pandesal (plus the OJ that I got from 7-11), off I went to a good start at 7:30am. I took song theow (a favorite since no demanding driver was around) to Lumpini Park (their Luneta). It was misty in the morning and for a working day, the park was too busy with locals doing tai-chi and other exercises. The park is clean and well maintained. I guess it's a good spot to relax amidst the bustling city landscape. I stopped for 20 minutes and more and exited at one of the north gates.
I was not feeling that good that time actually. I knew that tonsilitis was coming courtesy of the ice-cold Coke Zero I got from the cinema lobby the night before. But Thai (by the way, should be pronounced as "tay" not "thay") adventure had to go on so I took some turns and passed by at Chulalongkorn University (the closest they got to UP). My travel book suggested a visit inside the school ground to marvel at Thai architecture but upon looking at the premise from the entrance, the university could be as big as UP – Diliman. So I backed out and continued the walk. It is good to note though that I did some sightings of the nice campus buildings along the way.
On my way to Erawan shrine, I came across a walkway (similar to the one that connects Dela Rosa and Landmark in Makati) that interconnected malls and hotels. Very convenient. That also gave me a nice angle when taking a photo of the Thai dancers who were hired to perform as a way of thanksgiving to the gods. Erawan shrine is housed in one of the corners of malls and hotels and was beaming that time with busy fanatics from all walks of life and some tourists. Others were lighting some incense while others were just taking a bow. For 50 baht, you can also free a caged bird to embrace luck (similar to the Richard Gere commercial for HSBC). While sitting at the bench and enjoying the view, I completed five postcards bound for snailmail the next day.
Next stop was Baan Jim Thompson ("baan" is Thai for house). From Erawan, a tourist information staff had advised me to take a cab so I followed. In less than 10 minutes, the house of Jim Thompson, who mysteriously disappeared in Malaysia decades ago, was already welcoming me. Mr. Thompson, an American, was responsible for showcasing the famous Thai silk to the world (including a commision to costume the actors of the musical "The King and I"). I was primarily fascinated by his vanishing as it calls for a nice film project. Though the house was not that grand like a wat, it was amazing to hear stories from the curator. My favorite part was when we're asked to locate the peepot in the room which happened to be a figurine that resembles a cat. The thing is you have to remove the "head" to pee. And yes, it's only for men.
Late lunch followed at Tesco Lotus (I just walked from Baan Jim Thompson and passed by the National Stadium). The department store could be their equivalent of our SM branches where you can buy clothes and grocery items at reasonable prices. I got a Rama IX fanatic shirt, a pink one, for only 35 baht. Thanks to the 50% discount. Evelyn shared this story that on Mondays, locals wear similar shirt to support the aging king and to keep him stay in the pink of health (hence the color, I suppose). One floor below the supermarket is a food court, also with coupons. I got roast pork stew with rice and a glass of iced tea. By the way, there's something Thai about ordering iced teas. If you request for the ice to be removed (which I usually do), expect less amount of tea (say, ¾ of the container). They will ensure that in case you're in a 7-11 self-service type of store. At Burger King, they even charge 5 baht extra for iced tea without ice (on top of another 5 baht when asking for iced tea over soda).
From Tesco Lotus, I took a tuktuk to Hua Lamphong Station for 50 baht. Aside from the beautiful façade, there's nothing much in the central station. I don't know if it is normally busy but that time, the waiting area was jampacked with tourists and locals who were travelling to other parts of Thailand. The ambiance was very European with lots of backpackers sitting on the floor. From there, I walked for another 10 minutes trying to locate Wat Trimit (home to the largest golden buddha if I got my facts right). Along the way, a local approached me and attempted a good conversation which I gave in since the area was beaming with tourists and sounded safe. He said that Wat Trimit is closed due to holiday, or better yet, holy day for the monks. I've read about this in the travel books but I didn't expect it coming. I just ignored the guy and proceeded to the temple entrance which was very much open at that time. If I believed him, probably he will offer a tour to Grand Palace and the like.
I can't say that Wat Trimit was just another temple. It is small, yes. It also has buddha, yes. And a monk, yes. What separates the experience was the chance to be blessed by a monk (I was wishing that he's not Michael V and will later on say, "yari ka!") with water and a bundle of lotus flowers. Later on, the monk put a band (it was just a string commonly found at your dad's cabinet) around my right wrist, tied it and cut it using a pair of scissors. As of this writing, the "luck" is still with me.
Near Wat Trimit is an arc that serves as the gate to Chinatown. Based on the map, the heart of Chinatown (where you can find Bangkok at its most atmospheric) is a bit far from the gate. The disaster came in when I hired a tuktuk for an hour-long tour, charging me for only 60 baht. Bad bait, I realized later. The driver, instead of doing the usual tour, sent me to a tailoring shop and requested if I can stay there for at least 10 minutes and pretend that I'm gonna but a suit. He mentioned that I do that, he'll get a free litre of gasoline. I obliged at first with the intention of trying to make a little help. But when he brought me to two other stops, both selling expensive gem stones, I freaked out and agressively asked him to bring me to Chinatown, period. A senior female staff in the third shop, by the way, had an idea of what's happening. She asked me why I kept on looking at my watch. Without much prodding, she advised me to go back to my ride and tell the driver that I'm not in the area to shop. There goes my third casualty of Thai hostility.
After a few minutes, the tuktuk stopped in the middle of Nowhereland. That's the time to alight and restart the fun. But first I had to figure out where the hell I was. A little stuggle here and there ensued as I asked the locals where Yaowarat (the Chinatown-est street) is. All I got wa a smile and a clueless expression so I just walked and walked and finally came to halt to a loud street sign pointing to my next route.
Yaowarat was busy as expected. Jewelry shops are everywhere as well as food stalls, eskinitas leading to a wet market, souvenir shop and 7-11's. It was too hot and very energy-zapping at 3pm. I just took some pics and imagined the neon signs being proudly switched on at night. I decided then to get a cab and skipped the walking.
Next stop was Wat Saket, which is another temple but with a dark history. I've read from the book that the area used to be a graveyard to a thousand Thais when the country was hit by an epidemic ages ago. Beside the temple is the Golden Mount, a manmade mountain with stairs around it. The structure used to be the highest point in Bangkok. At the back of it was a not so glaring exit that leads to Mahattahai U-Thit bridge and the all-white Mahakan Fort. A few steps from it is the Democracy Monument where student rallies are usually staged. I got a bottle of mineral water, grabbed a bench and continued my postcard writing.
At 4pm, rain was about to plummet as the clouds started to get dark when I was crossing the Democracy Monument rotonda. I passed by at a branch of Mc Donalds and hurried my ass off to Khao San Road (my last pit stop for the day). Heavy rain fell when I reached the street and some were not minding at all. The area is a backpacker's paradise and is made famous by some Hollywood films (remember Di Caprio's "The Beach"?). I just made a quick tour of the whole street mostly cramped with foreigner-friendly shops and al fresco beer houses (some of it are selling our very own San Miguel Beer). I chose an American fast food this time (read: Burger King) and spent half an hour munching fries and a burger while listening to a zen-like rhythm of the falling rain. The other table adjacent to mine had a Chinese-looking girl getting a little emotional while writing a letter. Was she broken-hearted? How sad can she get?
From there, I got a cab to Hua Lamphong (they refused to bring me to Suan Plu for it is too far from Khao San Road) then purchased a token for the subway (only three years old and very clean and comfy just like the sky train) to Silom and took song theow back to Suan Plu. On the road, I saw the Giant Swing which completed my dream itinerary for Bangkok. At the condo, I had a quick shower and went directly to Holistic Health Center for a nice traditional Thai massage (200 baht for one hour). I was already having hiccups then because of tonsilitis but their tea made it disappear for a moment. Evelyn and I met there and she also had a massage. Dinner came after with spicy kangkong and fried pork cooked in Vietnamese way. Awesome. The rest of the evening (we finished dinner at 9pm) was spent packing and DVD-burning all the pics I took for the whole trip. Evelyn asked the villa's caretaker to hail a cab for me. At 10:30pm, I left the city center of Bangkok with a smile. It was raining.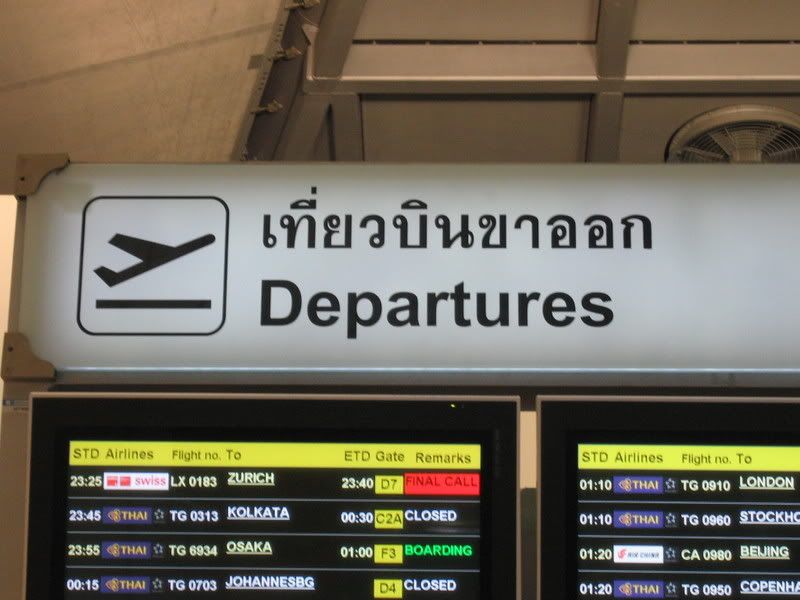 At Suvarnabhumi (simply pronounced as "swarnabum") International Airport, some scenes took place. There was a story on excess baggage and under-the-table deal, and another on change of departure schedule. I prefer not to go into gory details as I want to remember the place as a city of moving on and a trip to my own epiphany. Khap khun kap, Bangkok! Hope to visit you again some other time.