Bangkok Day 3 photo album here.
My third day was another tour day. This time, I was booked to Ayutthaya Day Tour which, for me, was something that I was most excited about. Even before the trip, the ruins kept on haunting me like the strong images of Tony Leung Chiu – Wai confessing his sins to an ancient Angkor Wat pillar in Wong Kar Wai's "In the Mood for Love". As opposed to yesterday's, the van arrived exactly at 6:45am to pick me up. After a few minutes, we were transferred to a bus that sent us to an hour-long out-of-town trip.
First stop was Watyaichaimongkhol which boasts of a century-old hall containing a golden buddha and a lifesize wax figure of a monk (with real human hair, the tour guide said). I tried their fortune-telling thingy (the one with a wooden container brimming with numbered wooden sticks) there, free of charge. After a serious thought (read: pray hard) on a particular aspect of life (I targeted love life for a change), you have to shake the container and let a stick fall on the floor. It wasn't easy as I managed to throw all the sticks in my first try. Eventually, I got stick # 24 and proceeded to the section containing some sheets of yellow-colored papers with corresponding number and fortune. My luck says (yes, in English) I have to migrate to another place and start anew for the environment I'm having now is too negative and I'll be victorious in the latter part of my life. I didn't contemplate much on it as I still have to visit another spot where a number of buddhas are aligned near the fence and the must-see reclining buddha in yellow garb (Wat Pho's smaller counterpart). The tour guide only gave us 30 minutes to explore the compound.
Next stop was the ruins that I was waiting for. We were transported to Phra Mongkhon Bophit and was given with an hour to walk around. Near the parking space is an elephant center where Miss Universe 2005 delegates had a chance to visit. To get to the ruins, you have to walk for 5 – 10 minutes more, passing through some stalls selling food and souvenirs. We were asked by the tour guide that in case we wish to have a picture with a buddha, we should sit beside it and should always be lower than the image. Another no-no is a sitting position with stretched legs making your feet point to the image. I was reminded by this when I visited Wat Phra Kaeow.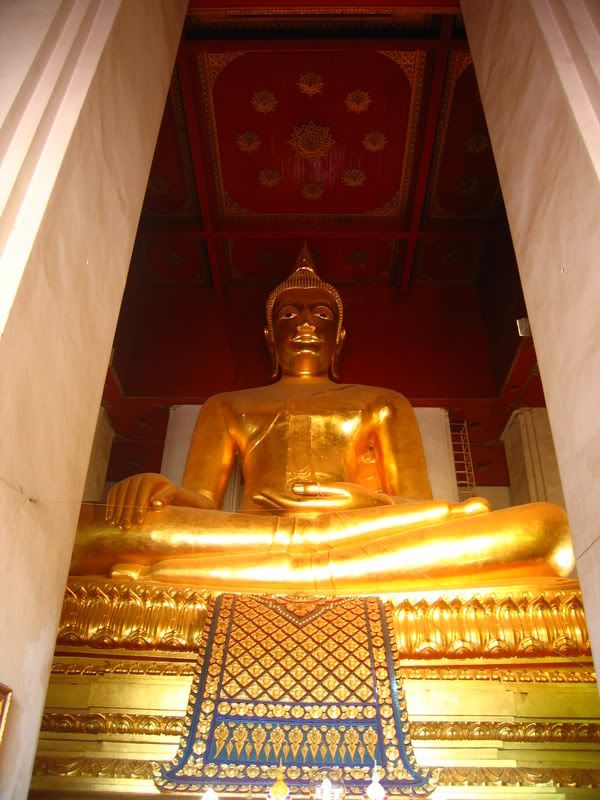 Anyway, the place used to be a seat of royalty similar to Grand Palace when Ayutthaya was then summoned as the capital of Thailand. This was right before King Thaksin left for Bangkok after the Burmese put the place on fire. What remains are some stones and brick walls comparable to those found in Intramuros. Nothing much in the area, actually, if you're not into historical sites. I just did the "In the Mood for Love" thing and off I went to a nearby temple where another giant bronze buddha is housed (the largest in Thailand).
Last stop was another feast to the eyes. After a few minutes of bus ride, we were brought to Bang Pa-in ("bang" means community or village). The place is home to the ramas' summer palace. One building is not open to the public as it remains exclusive to the royal family. The whole enclosure is big and can be explored through a golf car (for rent at 300 baht). I decided to walk. Besides it was breezy and cozy. Attractions include a "no-photo-inside" structure generically called "air-conditioned building", a temple in the middle of a manmade lake, an art nouveau mansion, a pagoda and a lot more, all influenced by European architecture and design. One bridge is adorned with Greek gods and godesses similar to the ones you can see in Italy (e.g. the bridge along Tiber River near Castle of Angels). Except for the temple and the pagoda, you'll mistake the place for something else. We were given this time an hour and a half to stroll.
When I thought the excitement was over, the tour ended with a bang. From the bus, we were boarded into a ferry for a nice Chao Phraya river cruise complete with Thai lunch buffet. That was already 1pm past and everybody was tired and hungry. And what a way to compensate! They've got chicken curry, a noodle dish that tasted like our pancit canton, the staple sweet and spicy pork and a variety of fruits and sweets. We only had to pay for the drinks (I ordered lemonade for 100 baht). The whole boat trip lasted for two hours. We passed by a rice station where boarding of sacks to a cargo ship was taking place, the Singha brewery, some houses along the river and more temples.
At 3:30pm, the ferry was already docked at River City. To avoid the gem store incident, I asked the tour guide to excuse me from the van assignment. Besides, it was cloudy during that afternoon and the aborted walking tour was too tempting to pass up. I retraced the route from the Portuguese Consulate then the post office where I bought 20 postcard stamps and the French Embassy. This time, I added the Assumption Church (one of the early Catholic churches in Bangkok) and, if I'm not mistaken, the Charter House (which architecture reminded me of some old buildings in Binondo). From there, I attempted to walk a little more until I reached a Muslim shrine (I forgot the name) and got a cab from there.
As planned, I had to pass by at my friend's office at 6pm then off we'll go to her favorite mall in Bangkok called Siam Paragon through sky train (BTS). At the mall entrance, there's already a box office for movies where we secured two cheap tickets (prices depend on the seat plan) for "What Happens in Vegas". I'm not really a shopping person so we just spent a few minutes taking photos of the car exhibit there and buying a copy of S. P. Somtow's "Jasmine Nights" (recommended read by G. Byrne Bracken in his book "A Walking Tour in Bangkok") before the film. I was amazed when we first approached the customer service counter of Kinokuniya (a big book shop and has branches in Singapore) and found no copy of the book, we were asked to check out another book store (a competitor perhaps). In Asia Books we found "Jasmine Nights". My friend asked for a discount to "farang" and the lady staff asked if I have my passport with me (which I didn't bring that time). Evelyn then presented her employment pass with her passport details on it and we availed a 5% discount (not bad). But the good stuff didn't end there. We were then asked if we wish to have a plastic cover for the book, free of charge. Now that's customer service.
Siam Paragon Cineplex, even just with the waiting area, is far better than my favorite Greenbelt 3 Cinemas. The lounge with its comfy sofas and an overwhelming chandelier could serve as dating place and EB spot. An IMAX cinema is also located nearby while the rest of the cinemas are reached through an esclator. Bag inspection is SOP and behind the attendant are some small lockers for cameras. The cinema we got was perhaps the biggest among the lot. It is so huge and it could match up for a concert venue. Right before the main feature (which began 10 or 15 minutes after the schedule in the ticket), Thailand's national anthem was played. It was beautifully arranged/orchestrated and sung by a children's choir, and played while vivid images of King Rama IX from childhood to current were flashed from the screen in sepia tone. That was one of the rare moments that the actual film was overblown by the experiences that occurred right before the opening credits.
The day's almost perfect except for the missed call that was registered in my O2. I have a hint that it came from Cebu Pacific and the agony of flight schedule changes kicked in. I bought 200 baht-worth of celfone load from 7-11 and ring them only to consume it on waiting time. I used my Globe in roaming instead. To top it all, no change was implemented. It so happened that the SMS and call (and probably email) notifications were not in synch. That almost ruined my Ruins Day.