Bangkok Day 2 photo album here.
My second day was stricter as I had to wake up and be prepared in time for the tour van pick-up at 6:45 in the morning. Too bad, the van was late for 30 minutes. But no regrets. At least I had the chance to explore the area and took more pictures. Evelyn managed to book me this Floating Market Tour (1000 baht) in advance that includes elephant and crocodile shows, a lunch buffet and a visit to a rose garden complete with an hour-long cultural show. Whew!
Alright. From city proper, we headed south of Bangkok for roughly 45 minutes of smooth ride (mostly express ways or national highways). From the first stop, a long-tail boat was already waiting for us. It can accommodate five persons max (with me was a Dutch family of four). Then off we went to a canal ride a la Venice as we peek to Thai's waterworld and simple living. After 20 plus minutes came another stop. It was already the Damnoen Saduak Floating Market. The area is anchored by a giant old-school market and beside it, along the canal, are some, err, boats selling mostly fruits and souvenir items. It wasn't as colorful as seen from the pictures but surely the athmosphere was very unique. Fresh from the long-tail boat, we had to get another boat just to "shop". They charged 150 baht per person and the boat caters to four persons max. I was joined then by a Korean couple and an American – Italian duo. For thirty minutes, we assailed the canal of busy and crowded "shoppers". It was rare that your boat won't hit another boat either from the seller or from other tourists. Personally, I didn't enjoy this trip much for I can't swim and the feeling was anytime, your boat will capsize and be eaten by the muddy waters. But of course, that was an exaggeration. I got a 12-piece postcard set for only 60 baht (standard price from the city).
Beforehand, our tour guide asked us to come back at the port at 10am if we wish to ride an elephant. Ten minutes prior, I was alrady enjoying a pack of ripe mangoes while watching two locals playing
"dama"
. At exactly 10 in the morning, the American – Italian couple joined me in another 10-minute van ride to the Elephant Village. I was hesitant at first about the 600 baht fee for a 30-minute elephant ride. I first thought that it was only 200 baht. But what the heck, I was in Thailand and when in Thailand….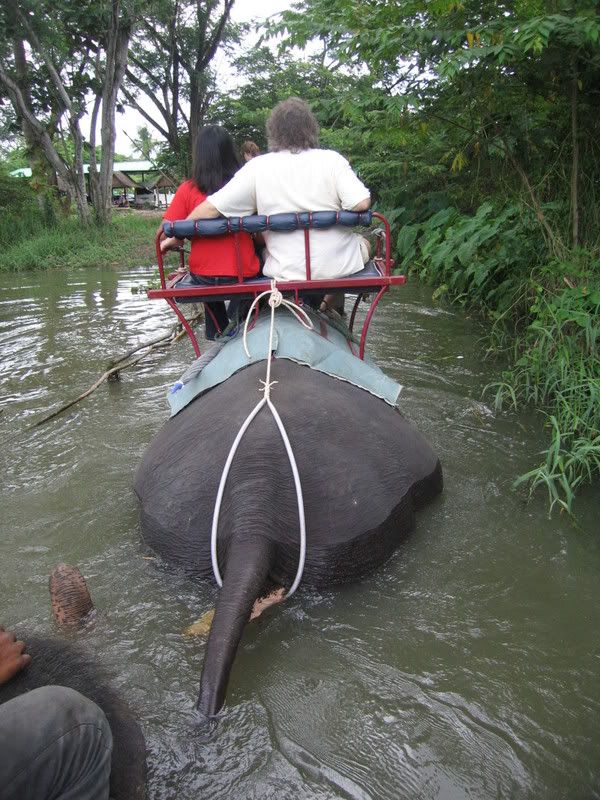 After paying up, we were asked (along with the American – Italian couple) to board through a pad (basically, it was just an elevated nipa hut). Since I was all alone, the crew allowed me to enjoy the ride alone. My elephant came first then another one queued for the couple. I was envious because I can take pictures of them together while we were getting into the jungle. But the fate's on me as the elephant driver (or tamer or whatever) volunteered to alight and got my camera for a priceless photo-op (later on the couple asked me if I bribed him because they didn't get the chance to stamp the whole experience with pictures except for the pricey souvenir picture). I even texted my brother about what I was having that time so that he can share a story to my
"pamangkins"
(I wish they were with me that time). Right before the ride ended, the elephants were asked to walk, knee-deep, in a makeshift river (also muddy). That moment alone was worth it.
Minutes later, the van was already waiting at the village's parking area. We were then transported to a snake show which I passed up because it required another entrance fee of 200 baht. By the way, nobody from the van (we were ten) got in. Maybe we're chickens. But on the brighter side, that was the time I got to bond with the other tourists. One of them was a Chinese girl (perhaps in her early 30's, ehem) who happened to have visited the Philippines for a few times already and was alwas mistaken for a Pinay. Her buddy during the trip was a Pakistani named Osama. We had a rollcall, by the way, at the start of the trip. We were asked from what county we came from. During my turn, the guide small talked with the usual "Mabuhay!". I said, "salamat!" with a smile for a change. We were "tambays" in a nearby resort killing at least half an hour.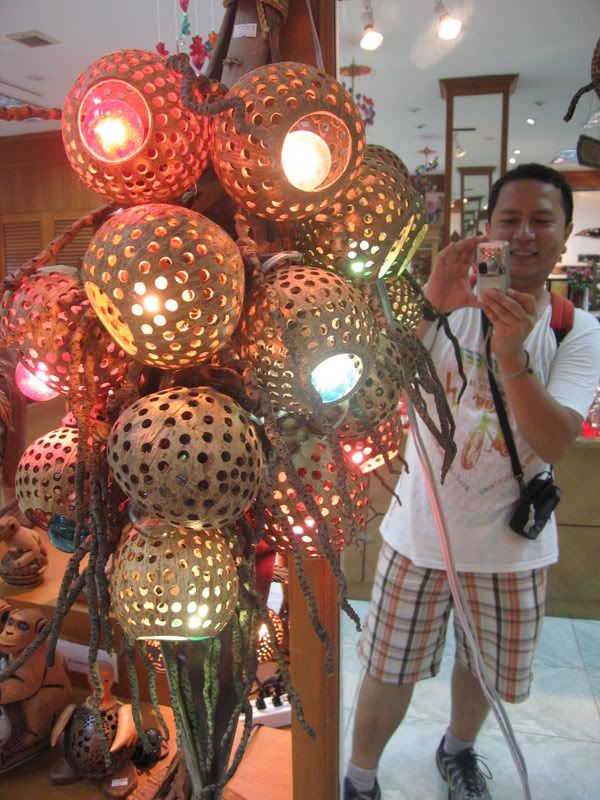 Next stop was the noble Royal Thai Handicraft Center. This also wasn't part of the itinerary but has no entrance fee so I jumped in. Inside was a group of busy sculptors doing their stuff, an array of artsy upholstery-making and carving. At the back was a showroom and a shop. I actually loved to buy some but the items were either expensive or too huge for a carry-on bag. I was later on surprised that from there, I had to take another van and be transferred to a different tour guide. The rest of my van-mates were already Bangkok city proper-bound and too bad that I didn't get their names or contact details. We just shook hands and bade our goodbyes (weird but I wanted a group hug, hahaha).
OK, the trip went on. It was past 1pm already and the lunch buffet was really called for. Buffet at Samphran Elephant Ground and Zoo was good and not spicy. I had lots of pad thai and just ignored the other meals (the chicken curry soup was soooo damn hot but it was good). We were dining in a hotel-like set-up, with the buffet tabled rightly placed in the middle. Forty-five minutes of good food and off we went inside the zoo where the elephant and crocodile shows were about to begin. Nothing fancy in the area. Near the entrance is photo booth with two tigers. Again, you had to pay extra for that. I proceeded to the elephant show which was already starting. It was crowded inside the ampitheater. I though I won't enjoy the show but when the elephants did a football exhibition, complete with football jersey, that was something. The highlight perhaps of the show was the feeding session with the elephants aligned in the railing. A short ride is also allowed (again, for a fee). I left the place and walked a few steps to the nearby crocodile show. It was free flowing, no program whatsover. The finale, if you can call it such, was the part where the tamers put their heads inside the crocodile's open mouth. Whoa!
Second to the last stop was a rose garden (used to be a haven for roses). It was included in the itinerary not for the flowers but for the cultural show that starts at 2:45pm (our van was 15-minute late). In a CCP like theater with stadium seats, the program was already taking place and early birds already got the best seats so I stayed on the side. There were some glimpses of muay Thai, a wedding ceremony, some dances including a singkil/tinikling-like steps rendered through an affecting folk music. After the show, we headed back to the city.
The last stop was a gem store. A welcome drink was waiting for us there and strangely enough, a single crew was assigned to each of the tourists. I can sense that I won't buy anything so I rushed the whole browsing and waited outside for another set of vans that will bring us back to our places. This was my first casualty with Thai inhospitality. I had asked the tour guide to get me to the River City so that I can spend the late afternoon with a walking tour near the river. When they secured me a van, I was asked to get in. That time, the tour guide and the rest of my van-mates already left. Then a stocky man got in and made a comment that the van that was River City-bound will depart in an hour and a half (and he's about to sleep to kill time). I didn't know why they did that. They could have just informed me pointblank that they can't bring me to my preferred pit stop. With a cold shoulder, I left the place and got a cab.
At 5:30pm, it was raining hard in Bangkok. This slowed me down as my raincoat wasn't strong enough. From River City and a pocket travel book in hand, I passed by the Portuguese Consulate (one of the early settlers), a Muslim temple, the main post office building, the French embassy, the old Customs House near Chao Phraya river and Oriental Hotel from where I stopped at the nearest boat station. I was already soaked in the rain and I pitied my S60. Minutes later, I hired a tuktuk to Baiyoke Sky Hotel, Thailand's tallest building at 997 feet. It was too dark for an 8pm due to the afternoon rain but it's good that they still allowed tourists to visit the 84th floor less the revolving viewdeck. So I climbed. The elevator alone was an experience as the glass wall behind gave an acrophobic view of Bangkok in night mode. The viewdeck was something else.
At 9pm, I wished I already called it a night but my legs were not complaining yet. How about Patpong? I hailed a tuktuk and asked manong driver to bring me to the red light district. First things first. I didn't see Patpong at its glory. The driver had a preference and brought me to a bar (an equivalent to Pinoy sauna) instead. I think he cheated when he told me that Patpong was closed due to rain. Anyway, with a sense of adventure, I got in (the place is called Cupidy Bar) and the male crew asked me to choose from the beautiful women inside a glass cabin. On one side, the girls cost 3500 baht for you-know-what while on the other, 3000 only. I escaped the place uttering that it was too expensive. Manong driver didn't just give in. He suggested a pingpong show for 500 baht but again, I said no while uttering the same line. And he brought me to another ("cheap, really cheap") and another ("cheap, really cheap") another ("it's the cheapest in Bangkok"). To top it all, I said, I just wanted to sleep. And he obliged by bringing me back to Suan Plu and charged me a lot (that wasn't my territory).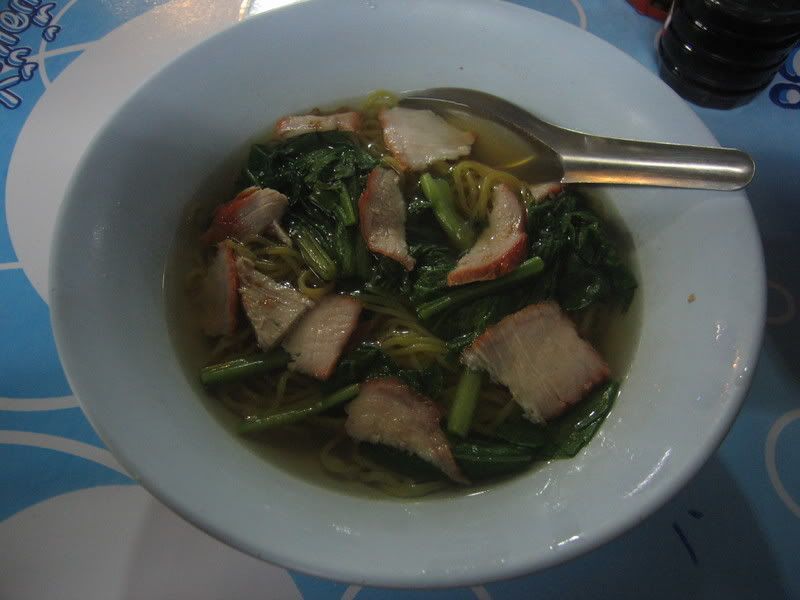 Right beside the condo was a hawker selling yummy noodles with roast pork. I got one for only 30 baht and it was so delicious. Later on, I found out from Evelyn that it's the best of its kind in Bangkok.