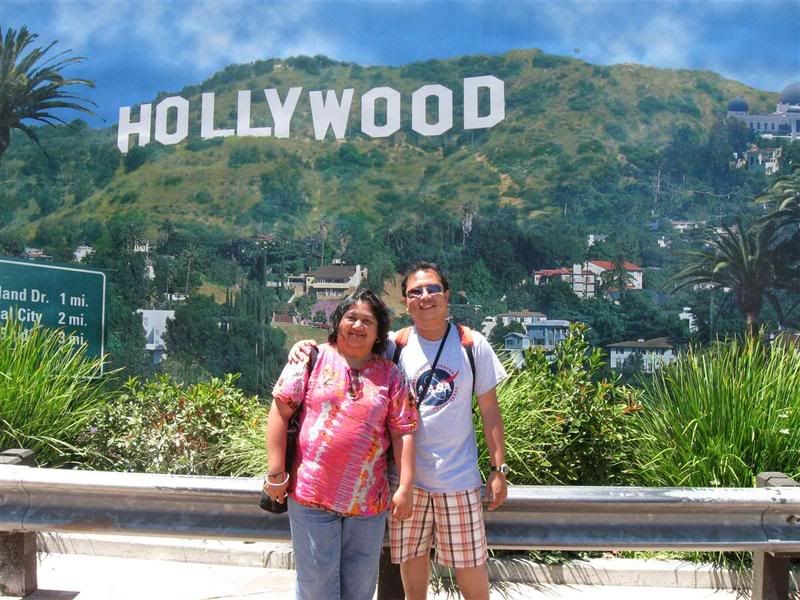 B-Lag as in Blog + Lag.
Roughly 26 years ago,
ate
Sol, a first cousin on my mom's side and my kuya's contemporary, visited our house in Lopez. She was already in college then and she just came from a five-hour trip from Manila . As an ate to a six-year old me, she taught me how to draw a
bahay-kubo
on my pad. I can still remember that it was at night (or was it just a brown-out?). She also did something that I would cherish for the rest of my life: she told me the tale of Spielberg's "ET" as if she's telling a bedtime story. I finally caught the film maybe ten years after that (and the digitally remastered one for another ten years perhaps). I can say that it opened doors for me on film appreciation.
Ate
Sol is now living her OFW life in LA. She lives in my uncle's house in North Hills along with my other cousin Babeth (who is now called "Vinnie").
Ate
Sol's younger sister, Marla, is also in LA.
Ates
Sol, Marla and Babeth are my first cousins on my mom's side.
Few days before I flew back to Manila (August 4 – 8), I paid a visit to my cousins and took my first VLs for this fiscal year. From Vegas, I took a Greyhound bus to LA, passing through some arid landscapes. Considering the driver from hell as the whole trip's terminator, the bus ride alone was an experience on its own. It just didn't give us an extension of two hours' trip but he made it a point that his in-house rules were properly heard and implemented, including a no noisy texting policy and limited talk time. At one stop, he told everyone that he was so annoyed by the low-batt sound. It felt good though that there were three (senior) Filipinos seated near my slot. We managed to make a conversation through whispers and demure laughs until we reached the San Fernando Greyhound station where my cousins picked me up.
My very first morning in California was spent with a nice breakfast prepared by my dear
ate
Sol. She took a four-day leave from work and that was something I truly appreciated. There were tall tales before that America transfoms a person's motivation to be workaholic and depressed. Ate Sol disproves that (except of course of some depressing times when she misses her family).
Our first stop for the day was Hollywood Boulevard , no less. We reached (Chinese) Mann's Theater after 45 minutes of three bus rides and one train ride. The street was busy with tourists as expected. We availed StarLine's tour number 1, which is the most popular among their 15 or more tours. While waiting for our "open-top van", we explored the area, trying to get a picture of each entry in the Stars Walk of Fame. We were later informed that there are a total of 3,000 stars in the area and at the bend laid two of the biggest stars: that of Elvis' and the Beatles'.
The "open-top van" was something that I wasn't expecting. It's like a jeep with seats positioned just like those in a van and with no roof. For three hours and two sunblock applications, we toured some of the celeb houses (including those of Richard Gere's the Beckhams', Nicolas Cage's, Demi Moore's, Dr. Phil's, George Marciano's and a lot more) and other shooting locations like those used in "Pretty Woman", "Beverly Hills Cop" and significant spots like the Pollo Loco corner where Brad Pitt used to work as a mascot and the infamous curve where panty-less Britney Spears "said hello" in a different way.
We were then dropped off in front of Kodak Theater where ate Marla and family picked us up and headed back to Rodeo Drive to shop a clutch bag and a pair of shoes from Coach (my biggest spending so far: $700!) for a friend. Minutes later, we were already cruising our ass off to Santa Monica , the home of the original muscle beach.
It was a nice way to end the day with sand and sunset, while walking lazily with cousins along a pier that is highlighted by a giant ferris wheel and some theme park rides. Not to mention that the awesome landscape has already been used in countless movies. Dinner later on was shared at Salo-Salo Restaurant with an overwhelming set of
kare-kare
(my request),
sinigang
(ate Marla's husband's favorite) and a
bilao
of grilled meat.
I am not a theme park person but my second day was spent at Universal Studios with
ate
Sol. We arrived at past 10am and the queue was kilometric as expected. It was also hot and sunblock always comes in handy. I did not bring any sunblock from Manila and I had no choice but to buy Neutrogena Suncare with Helioplex that I don't mind blogging about. The theme park is not that big as I imagined but there is good stuff definitely. One of it is the newly installed Simpsons Ride, a simulation ride that I really enjoyed. Maybe because the screen was too big, no mental/visual distraction whatsoever was in sight. Then there's the studio tour, which was too wholesome but still a delight to do (this should be the first "ride" that you should take while in Universal Studios). Plus the equally exciting The Mummy Ride (when they warned you with "high-speed", they meant it) and Jurassic Park River Ride (which was too fun for me as I got soaked with water in the final drop). We capped the night with a nice dinner with two ex-officemates and a kababayan at Citywalk's Buca de Beppo.
My last
pasyal
day in LA was originally allotted for Disneyland Resort but since it was difficult to take a bus and train after the fireworks, we decided to skip it (to my dismay, of course). My only consolation was that Disneyland only landed the ninth spot in my top 10 book so I guess it'll be OK. To compensate, I decided to visit three top 10 locations namely El Pueblo de los Angeles, Los Angeles County Museum of Arts (LACMA) and The Getty Center.
El Pueblo de los Angeles is like a mini-Mexican historic district complete with tiangge and burrito restaurants. The book mentions this as the first "Los Angeles". It boasts not only Mexican graffiti but also the oldest living house in the city called Adobe Avila. To reach the place, you have to stop at the Union Station which is LA's equivalent of Grand Central in New York.
LACMA has a wide range of collection for visual arts and is staffed with the most number of Filipinos. It's a delight to be guided by a
"kababayan"
when, for instance, you wish to see some David Hockney paintings. Unfortunately, the sole Edward Hopper they have was not open for public viewing that time though it's good to appreciate an entry from the Philippines which happens to be a century old
"baul"
.
Our last stop for the day, The Getty Center, was the only "amazing race" I did for the rest of my stay in LA. Given with only 30 minutes to browse through a dozen of paintings, I had to rely on my walking shoes, my incredible sense of direction and my book's suggestion of must-see pieces (some of those are Monet paintings). But I did not have to fret as the Getty's main attraction is a nice building seated on top of a hill that can be reached by taking a pilot-less tram. Overlooking LA is a bonus.
Ate
Sol and I planned to cap the night with a movie but Sajo, an officemate way back SPL days gave us a call for a surprise visit on my uncle's place. We stopped by at a noodle house, had a hearty chicken mami and siomai before heading back to Noble Street (where Sajo and her husband were already waiting). It was a short chitchat and
kumustahan
. Too bad that I forgot to get us a souvenir photo.
I had a nice finale for my US stay in LA. Disneyland Resort remains to be visited. Nicole Kidman must be waiting for me somewhere.
More pics
here
.